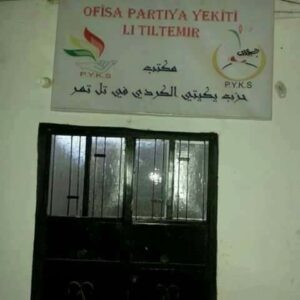 Yekiti Media
PYD Asaish Militia closed the offices of  Yakiti Kurdish Party and Kurdistani Democratic Party in Tel Tamir  town
on Saturday evening ,April23th,2016 because they haven't been had licenses by
Self-management which proclaimed by the same previous party .
Bahjat Shekho , the Central Committee member of Yakiti Kurdish  party assured that an armed force of the PYD Asaish broke into their organization office and ordered to vacate it immediately in order to close it.
Shekho added that  PYD Asaish members said " we had received the command of closing your offices from the General Administration of Asaish ." He pointed that the armed force didn't have any writing editing order , nor a warning earlier .
Shekho explained that their position of closing their office is so far from the democracy that they pretends the work for , and their behaviors tend to put an end to the political situation in Syria's Kurdistan and closing their offices were the result of the understanding approved yesterday between PYD and the Syrian regime after the last clashes in Kamishlo city .
It is worth to mention that this is the second time that the Asaish Democratic Union Party (PYD)  is closing Yakiti Kurdish Party office in Tel Tamer town with the same argument ; the first time was on  ha closed it on 10/29/2015 .