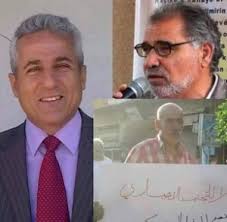 Yekiti Media
PYD militants launched campaign raids and arrests affected the leaders and cadres of the Kurdish Yekiti in Amouda Saturday night 5/28/2016.
According to Yeketi Media reporter in Amouda, PYD militants raided evening Anwar Naso and Abdulelah Auje homes (Organic Central Committee of the Kurdish Yekiti Party). They were arrested and taken to an unknown location, as our correspondent noted that the gunmen took the papers and personal computers, mobile phones, and under the sight of all family members, which triggering a state of fear and terror in the hearts of children.
Our correspondent saied that PYD militants stressed also raided Mohsen Khalaf and Marwan Idi houses (Organic Central Committee of the Kurdish Yekiti Party) and Radwan Hmo father of an officer in the Peshmerga, "Joan Hmo" stressing that they were able to arrest Mohsen Khalaf and Radwan Hmo,but Marwan Idi was not at his home in that time.
It is worth mentioning that the campaign of arrests that took place this evening came after a picketing, which called from the local council of the Kurdish National Council in Amouda against the PYD practices across Kurdish areas.