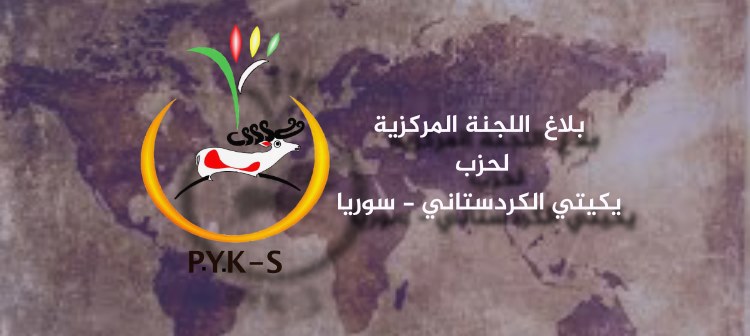 The Yekiti Kurdistani Party-Syria released a statement after the meeting of the Central Committee of the party in Qamshlo city at the end of September.
Yekiti's Secretary Suleiman Oso spoke about the party's organizational status and the completion of its congresses in several European parties.
After the meeting, Yekiti decided to organize political events and communicate with the public in all regions.
The meeting appreciated the efforts made by staff of the Yekiti Media website and the publishers of the Yekiti monthly newspaper as well as the distinguished role of the Advisory Committee.
The meeting also discussed the US-Turkish agreement on the safe zone, stressing the importance of including all Kurdish areas in it and the establishment of a civilian administration and a joint military force that includes Rojava Peshmerga.
Moreover, the meeting addressed the situation in the Afrin region where armed groups have been committing violations against Kurdish civilians.
The Yekiti meeting also appealed to all Kurdish parties and civil society forces to support the Kurdish members of the Constitutional Committee in order to succeed in their mission, which will be a win-win for the Kurdish people as a whole and not just the Kurdish National Council.
The Central Committee of Yekiti also addressed the announcement of the Secretary General of the United Nations to launch the work of the Constitutional Committee and the drafting of the new constitution for Syria, stressing the importance of this step.
The meeting expressed concern about the small representation of Kurdish groups in the lists of the opposition and civil society, and emphasized that Kurds should be fairly represented in the final 45-member list.
The meeting positively viewed the role played by France to make a successful initiative to bring closer the views between the Kurdish National Council and the Democratic Union Party.
The meeting confirmed that the Kurdish National Council has not yet received any positive attitudes to the success of that initiative, where the remaining detainees were not released and they didn't hand over the party offices in Amuda and Qamishlo
At the end of the meeting, the party discussed the evolution of the position Arab cultural and political elite about the shape of the future Syrian state and expressed satisfaction with the introduction of the federal project for Syria.
Yekiti Kurdistani Party-Syria, Central Committee