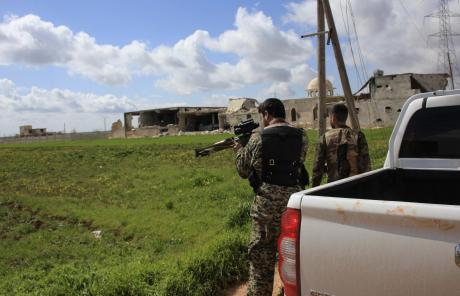 (Reuters) – Insurgents attacked a Syrian government security building in the northern city of Aleppo on Wednesday, bombing it and then launching a ground assault, sources on both sides and a monitoring group said.
The Syrian Observatory for Human Rights said at least 20 members of the security forces and 14 insurgents were killed in the attack on the Air Force Intelligence building.
Jihadist groups including the al Qaeda-linked Nusra Front and the Muhajireen and Ansar army claimed responsibility for the attack, which partly destroyed the building.
The Syrian army said it had "thwarted attempts by terrorist groups to infiltrate the Air Force Intelligence building in Aleppo". In a statement, the army said it had "eliminated large numbers of terrorists".
Initial reports suggested the insurgents had set off the bomb in a tunnel dug under or near the building in Aleppo, which has long been a focus of fighting between government and insurgent groups.
Rebel sources and a combatant fighting on the government side confirmed that part of the building had been destroyed in the attack on the western outskirts of Aleppo.
Air Force Intelligence is widely viewed as one of the most powerful arms of the Syrian security establishment.
In a statement circulated by Nusra Front supporters on Twitter, the group said "the Mujahideen destroyed Air Force intelligence" and were fighting in the surrounding areas.
Rami Abdulrahman, who runs the Observatory, described it as a blow to the Syrian security establishment. "It's very important, it should have been better protected," he said.
Aleppo, around 50 km (30 miles) south of the border with Turkey, is divided between government forces and insurgent groups fighting to topple President Bashar al-Assad in a four-year-old conflict estimated to have killed 200,000 people.
U.N. envoy Staffan de Mistura is currently trying to broker a ceasefire between insurgent and government forces in Aleppo. His team headed there on Tuesday.
Government forces backed by allied militia launched a major offensive aiming to encircle the insurgent-held part of Aleppo late last month, but the offensive was repulsed.