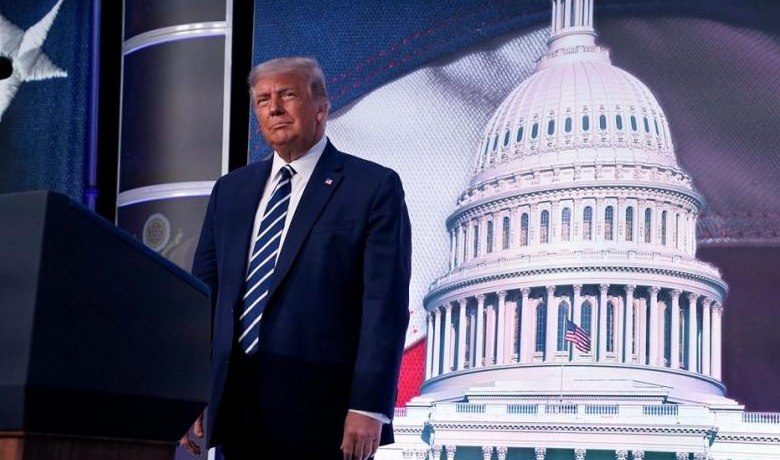 The Republican Party formally nominated President Donald Trump for a second term in the White House in Charlotte Monday, one of the first acts of a GOP convention that has been dramatically scaled down to prevent the spread of the coronavirus.
"This is the most important election in the history of our country," Trump said in an unscheduled appearance after the nomination was official. "Our country can go in a horrible direction or in an even greater direction," he said.
Trump has sought to minimize the toll of the pandemic, but its impact was evident as proceedings began in Charlotte. Instead of the thousands of people who were expected to converge on this city for a week-long extravaganza, just 336 delegates participated in a roll-call vote from a Charlotte Convention Center ballroom.
Trump said he had made the trip in contrast to his Democratic rival, Joe Biden, who never traveled to Wisconsin, the state where the Democratic convention was supposed to be held.
Even as he accepted the nomination, Trump was raising questions about the integrity of the election, again taking issue with mail-in voting, which experts say has proven remarkably safe.
We caught them doing some really bad things in 2016 … we have to be careful because they're trying it again," he said. "Watch it very carefully. Because we have to win."
"The only way they can take this election away from us is if this is a rigged election," he later said.
Trump also panned the state's Democratic governor for "being in a total shutdown mood," insisting restrictions the state has in place to try to prevent the spread of the virus, which has killed more than 175,000 people in the country and infected million, were motivated by politics.
The GOP convention is a crucial moment for Trump, who is trailing in national and battleground state polls and under intense pressure to turn the race around. Just 23% think the country is heading in the right direction, while 75% think it's on the wrong path, according to a new poll from The Associated Press-NORC Center for Public Affairs Research.
After Trump's re-nomination, much of the action is shifting to Washington, where Republicans will spend the week trying to convince the American people that the president deserves a second term.
aawsat