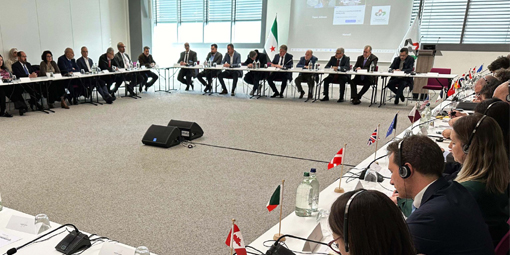 Yekiti Media
The Syrian Negotiations Commission (SNC) concluded its periodic meeting on Saturday. During the meeting, which lasted for two days, the SNC discussed the political situation and heard briefings of its committees regarding the political process including the constitutional committee. It further embarked on evaluating the political process as a whole and ways forward under current regional and international conditions.
In its final statement, the SNC reiterated that despite the best efforts of UN special envoy to Syria, Mr. Geir Pederson, to make progress, no positive results have been achieved especially regarding the issue of detainees, the continued violations against Syrians and the Syrian regime's bombardment in Idlib.
In addition, the Security Council has failed to extend resolutions related to safe and continued cross-border humanitarian access or issue a new resolution to ensure humanitarian aid reaches those in need without discrimination or politicization. This requires the special envoy to break silence with regards to the regime's continued blocking of those efforts.
The SNC called upon the UN Secretary General, his special envoy to Syria and members of the Security Council to shoulder their responsibilities towards the tragedy of Syrians and taking news steps to implement UNSCR 2254 and its four baskets. It further demanded that a special Security Council session be held, in the presence of SNC, to discuss the obstacles facing the political process and the implementation of Security Council resolutions and ways to address them.
It further called upon the United Nations, relevant organizations and member states to uphold their obligations towards refugees and IDPs in terms of protecting them and meeting their needs. On the other hand, the SNC demanded that justice and accountability mechanisms for the crimes against humanity which have been and continue to be perpetrated against the Syrian people be introduced through the General Assembly to avoid the stalemate in the Security Council.
The SNC also condemned the Israeli occupation forces' invasion of Gaza Strip and the massacres committed by the occupation government against innocent civilians in Gaza Strip. The SNC expressed solidarity with the Palestinian people and highlighted the importance of ending their suffering. It further valued the efforts of the Arab Group in international and regional arenas to meet the aspirations of the Palestinian people.