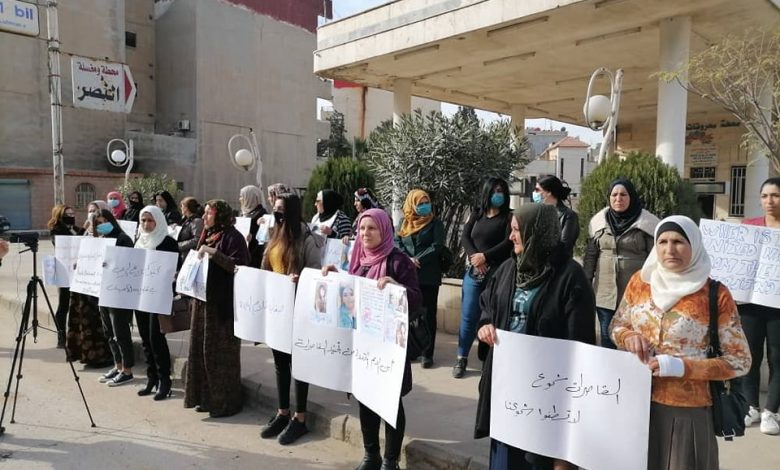 Yekiti Media
Yesterday, the Asayish of the Democratic Union Party prevented the families of the kidnapped children from protesting in front of the United Nations office in the city of Qamishlo, and they closed the roads so these families went to Al-Hasakah Road, opposite the Farman Hospital.
The Revolutionary Youth Organization had kidnapped, during the month of last November, 14 minor children from the cities of Qamishlo, Amuda, Derek, Afrin and Aleppo.
Yekiti Media reporter said that after the families gathered in front of Farman Hospital, with the participation of the Kurdistan Yekiti Party – Syria, they raised banners denouncing the kidnapping of minors and demanding their return to the home and school.
Our correspondent confirmed the presence of dozens of gunmen from the Democratic Union Party in the place of protesting, pointing out that despite the harassment and the ban on filming, the families were able to organize the protest.
And during the protest, PYD gunmen arrested Shams Antar, a member of the Syrian Kurdistan Writers Union, Jum'a Akash, Al Arabiya TV correspondent, Muhammad Hassan, the correspondent of Russia Today,  and Fehd Sabri the bureau director of Rudaw TV and five other people working in Rudaw's office.
After several hours, the gunmen released all the detainees.
The Yekiti Party issued a statement condemning the violations committed against media professionals and families of kidnapped children by the Democratic Union Party, and the Yekiti Party demanded the leadership of the Syrian Democratic Forces to abide by and implement the pledges.
Yekiti Party called on the American side to assume its responsibilities towards the violations that are taking place in its area of ​​influence, to put an end to them, and to hold the perpetrators accountable.
It should be noted that the commander of the Syrian Democratic Forces, Mazloum Abdi, signed in 2019 with the United Nations representative on children and armed conflict, Virginia Gamba, a plan of commitment to end and prevent the recruitment of children under the age of 18 and their non-use in military actions.