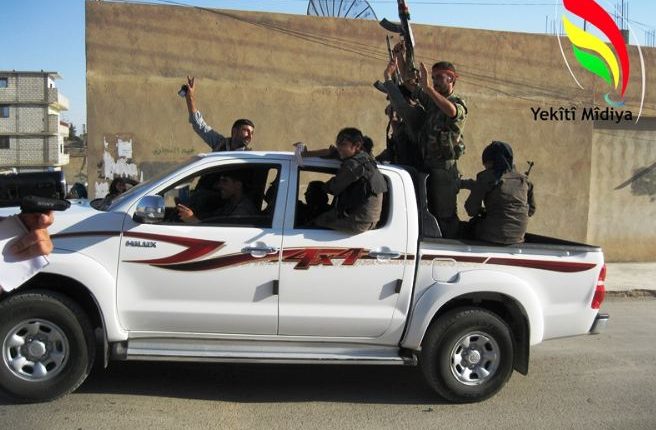 Yekiti Media
A group of Kurdish activists, in the city of Darbasiyah, and other regions in Syrian Kurdistan, issued a call for solidarity with the detainees of the city of Darbasiyah from the teachers and the protest detainees demanding their release.
Appeal … (All solidarity with the arrested teachers in Darbasiyah)
To all human rights organizations and international organizations concerned with education rights and human freedom.
To all relevant international organizations and bodies.
The right to education is considered one of the most important basic rights guaranteed by all international and regional charters and treaties. Several articles have been mentioned in this from the Universal Declaration of Human Rights, the International Covenant on Economic, Social and Cultural Rights, the Convention on the Rights of the Child, the Convention on the Elimination of All Forms of Discrimination Against Women and other sources of international law and human rights law. Human rights and because the right to education is the basis and an entry point for protecting other rights, so its importance lies in empowering and strengthening other rights. Without adequate and appropriate education, a person cannot know his other rights nor distinguish cases of human rights violations and he cannot defend those rights and the privacy of the right to education allows the person or His guardians are free to choose the type of education that suits him. It allows individuals and groups to establish private educational institutions that are compatible with their religious and intellectual orientations.
The arrest of teachers in Darbasiyah and their imprisonment since 19.01.2021 until the date of the launch of this appeal, as well as beating their colleagues, their families and students in solidarity with them in a peaceful demonstration calling for their release is not based on any legal or moral basis, and it is a terrible violation of all laws, laws and international norms. Concerned with individual freedoms and human rights.
Therefore, we demand the Democratic Union Party (PYD) and its security services to release the teachers who are unlawfully detained in the city of Darbasiyah and to apologize to them, and remind them that every day that passes after their arrest is nothing but a continuing violation of their freedom and a clear violation of laws, laws and international treaties on human rights, and we hold them fully responsible for the harm that happens to them. Material or intangible.
The following are the names of those arrested:
1- Abdul Hamid Aliko
2 – Idris Sharif
3- Muhammad Suleiman
4- Dalil Sheikhmous
5- Idris Aliko
6- Ibrahim Suleiman
7- Jihad Aliko
8- Nizamuddin Aliko
9 – Abdul Khaleq Khidir
Today, Saturday, the PYD released the detained teachers in the city of Darbasiyah, while Nizamuddin Aliko and Jihad Aliko are still in forced detention.
More than 200 political and media figures signed an appeal to demand the release of the detainees.