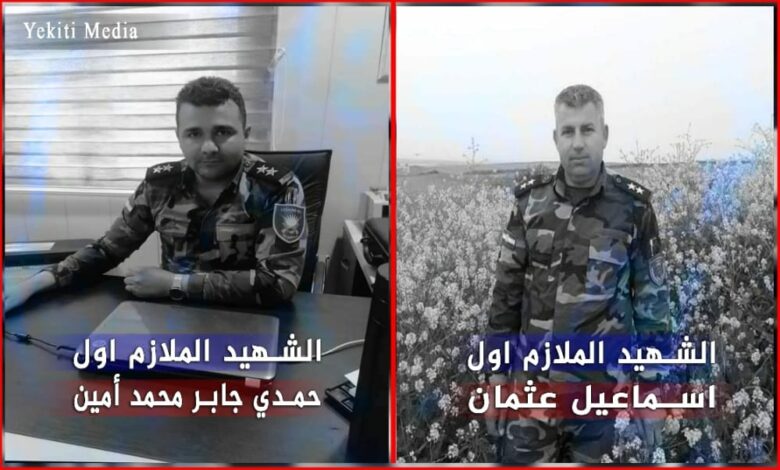 Breaking news
News
Five Peshmerga fighters were Martyred and wounded in a landmine explosion
Yekiti Media
Roj Peshmerga fighters were Martyred today, Wednesday, when a landmine exploded, planted by Kurdistan Workers Party (PKK) fighters, on the borders of Dohuk Governorate in the Kurdistan Region of Iraq, and 3 fighters were wounded in a landmine explosion.
According to Yekiti Media correspondent in Dohuk, First Lieutenant Hamdi Jaber Muhammad Amin and First Lieutenant Ismail Othman were martyred, as a result of the explosion of a landmine planted by PKK fighters in Wadi (Naqba) within the Nahla area located on the administrative borders of Aqrah district, east of Dohuk governorate.
The United States of America, the European Union and Turkey classify the PKK on the list of terrorist organizations.
Officials from both Iraq and the Kurdistan Region have repeatedly called on Turkey and the PKK to take their fight away from areas populated by civilians, thousands of whom have been displaced or sustained damage to their farms, livestock, or homes. Others have suffered serious injury or even death as a result of skirmishes or Turkish bombardment of suspected PKK positions.
The (PKK) has previously targeted the Peshmerga forces while they were performing their periodic tasks in the border areas, especially the mountainous areas within the Kurdistan region.
Roj Peshmerga forces are military forces formed from the sons of Syrian Kurdistan and are considered the military wing of the Kurdish National Council and have participated during the past years in the war against the terrorist organization ISIS and defending the land of Kurdistan