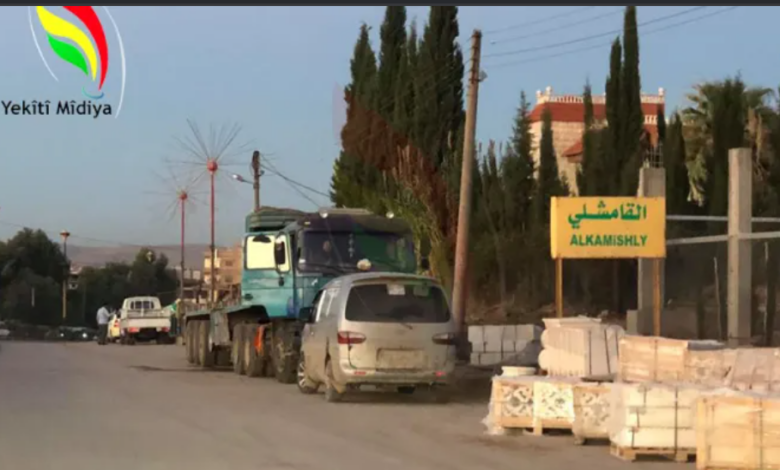 Breaking news
News
The PYD administration imposes royalties on the merchants of the cities of Qamishlo and Amuda, amounting to thousands of dollars
Yekiti Media
The Democratic Union Party administration imposed new royalties on shop owners in the Qamishlo market center and in the industrial area, exceeding seven thousand US dollars.
A well-informed source told Yekiti Media from Qamishlo city center, that a committee consisting of several people headed by a cadre of the Kurdistan Workers Party (PKK), roams the shops, and focuses on exchange companies, remittances, goldsmiths' shops, industrial companies and food merchans, and imposes on them sums of money ranging from 200 to 3000 American dollar.
The source, who preferred not to be named, added that the committee also toured the industrial area and imposed sums that exceeded market royalties, in particular shops selling spare parts and contracted with the PYD administration, stressing that they were able to collect large sums of up to $8000.
The source also indicated that they threatened all those who refrained from paying, and seized a store in the industrial zone, after assigning the Supply Authority, on the pretext of the lack of regular statements and the lack of a price list, and the store was closed with red wax for a period exceeding 24 hours, while many in the market refused. and payment industry area.
Also, Yekiti Media correspondent in the city of Amuda reported that the PYD administration had also imposed royalties on shop owners, exchange companies and money transfers.
The owner of one of the shops in the market expressed his regret for the practice of the PYD administration against the people by imposing these royalties and monopolizing the most important commodities such as sugar and fuel, in the difficult economic conditions experienced by the people of the Kurdish regions, especially after a year has passed, which he described as a drought, due to the lack of rainfall and the failure of farmers in the region to harvest their annual crops, which negatively affected the economic situation.
In the context, citizen Kawa Ahmed said: "The only person affected by these royalties imposed by the PYD on merchants is the poor class, because the merchant will add the value of the amounts paid to the administration (the royalty), on the capital of the goods sold to the people, with the loss of the supply control, which holds the merchant accountable. ".
Kawa expressed his regret for what this administration is doing, which has negatively affected the people who saw immigration as the easiest solution to get rid of its injustice – according to his description.
It is reported that the PYD administration imposes several royalties under various names and pretexts, not to mention the revenues of the Semalka crossing, and the sale of crude oil and its derivatives, which bring in millions of dollars per month, according to observers and specialists in the Kurdish issue.