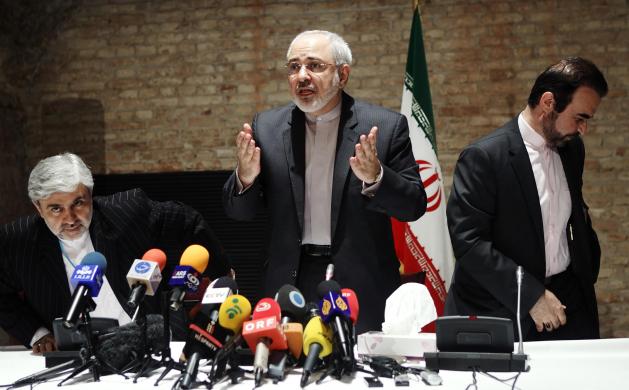 (Reuters) – Iran faced Western pressure on Saturday to make concessions over its atomic activities after it and six world powers failed to meet a July 20 deadline for a deal to end the decade-old dispute but agreed to keep talking.
The countries agreed to extend the high-stakes negotiations by four months, and let Iran access another $2.8 billion of its cash frozen abroad during that period, though most sanctions on the Islamic Republic stayed in place.
Germany – one of the major powers trying to persuade Iran to curb its nuclear program – warned that the extended talks might be the last chance for a long time to reach a peaceful solution.
Echoing the views of other envoys, a Western diplomat said there had been some progress during nearly three weeks of marathon discussions in Vienna's 19th century Coburg palace and that gaps in positions were not "unbridgeable".
But, the senior diplomat added: "We cannot accept that Iran stays at current levels of enrichment."
The six powers want Iran to significantly scale back its uranium enrichment program to make sure it cannot produce nuclear bombs. Iran says the program is entirely peaceful and wants sanctions that have severely damaged its oil-dependent economyto be lifted as soon as possible. After years of rising tension between Iran and the West and fears of a new Middle East war, last year's election of a pragmatist, Hassan Rouhani, as Iran's president led to a thaw in ties that resulted in the current nuclear negotiations.
The announcement to give diplomacy until Nov. 24 came in the early hours of Saturday, a day before the July 20 deadline that Iran, the United States, Britain, France, Germany, Russia and China had earlier set for an agreement.
"These few months until November could be the last and best chance for a long time to end the nuclear argument peacefully," German Foreign Minister Frank-Walter Steinmeier said.
"Iran must show it is willing to dispel all doubts about the peaceful nature of its nuclear program," he said.
Under the terms of the extension of the negotiations, Iran will be able to access during this time a relatively small portion of an estimated more than $100 billion held abroad, in return for limits to its nuclear program.
It prolongs – with some adjustments – an interim deal hammered out in Geneva last year, under which Iran halted its most controversial nuclear work in exchange for some easing of sanctions. The six-month deal – which allowed Iran to receive $4.2 billion in funds held abroad – was designed to create time and space for the negotiation of a permanent agreement.
U.S. officials stressed that most sanctions against Iran Republic would remain in place for now.
"Iran will not get any more money during these four months than it did during the last six months, and the vast majority of its frozen oil revenues will remain inaccessible … We will continue to vigorously enforce the sanctions that remain in place," said U.S. Secretary of State John Kerry.
IRAN'S "FEET TO THE FIRE"
It remains uncertain whether four more months of talks will yield a final deal, since major underlying differences remain after six rounds of meetings since February.
"We are definitely convinced it's doable, it's a question of political will," the senior Western diplomat said. "I think they (Iran) really want to get this done."
In exchange for the $2.8 billion, Kerry said, Iran agreed to take several steps, including to keep neutralizing its most sensitive uranium stocks – uranium that has been enriched to a level of 20 percent purity – by converting it to fuel for a research reactor in Tehran used to make medical isotopes.
French Foreign Minister Laurent Fabius told Reuters in Cairo that major disagreements remained though some had been resolved.
"If we had thought there was no potential for a deal we would have stopped immediately," he said.
Some members of U.S. Congress are eager to impose new and tougher sanctions on Iran. U.S. officials said on Saturday they would continue to oppose new sanctions as long as the negotiations were underway but would drop their opposition if the talks collapsed. "We understand Congress' desire to hold Iran's feet to the fire," one of them said.
Iran says it would be willing to delay development of an industrial-scale uranium enrichment program for up to seven years and to keep the 19,000 centrifuges it has installed so far for this purpose, but Washington says this is still too many.
Enriched uranium can be used to make fuel for nuclear power plants, Iran's stated aim, but can also provide material for bombs if refined further, which the West fears may be the country's ultimate aim.
European Union foreign policy chief Catherine Ashton – who leads the talks for the powers – and Iranian Foreign Minister Mohammad Javad Zarif said in a joint statement that the talks would resume in the coming weeks.