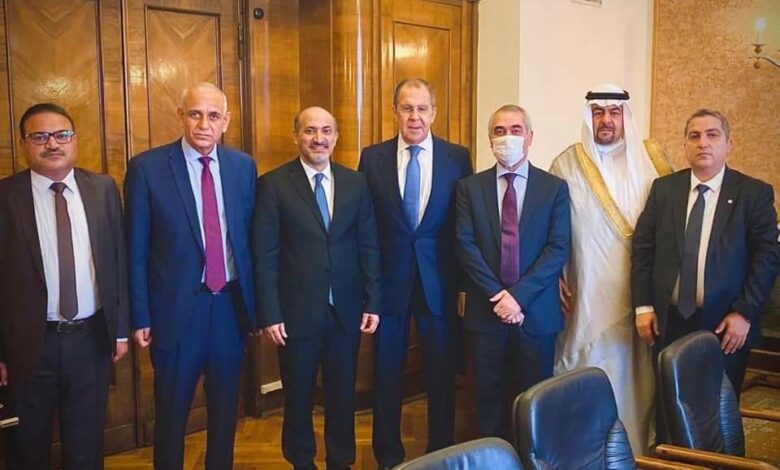 Yekiti Media
Press Release
25/09/2020
Peace and Freedom front (FPF) continue its efforts to reach and communicate with countries active on the Syrian theatre.
At the invitation of the foreign ministry of Russian Federation.
A delegation of FPF that included representation of Arabs, Kurds, and Assyrians, met, on Friday, 25 September 2020, with Russian foreign minister Mr. Sergi Lavrov and deputy foreign minister Mr. Mikhail Bogdanov at the Russian foreign ministry in Moscow. During the meeting the two sides discussed the dire situation in Syria and the new developments related to the political solution and process. The Russian side renewed its position of unity and integrity of the Syrian territory. Mr Lavrov expressed that the establishment of FPF that includes Arabs, Kurds and Assyrians would positively contribute to achieving a lasting peace and a political solution in Syria in accordance with UN resolution 2254.
The FPF delegation affirmed its dedication to fulfill the aspirations of the Syrian people and to achieve a political transition sanctioned by UN resolution 2254.
The delegation, also, expressed the importance to end the standoff and stressed for expediting a political solution. Regarding the establishment of PFP the delegation gave a detailed explanations of its political narrative and expectation, and stressed the unity of Syrian territories and the Syrian people is a mosaic of Arabs, Kurds, Assyrian and Turkmen and others; most importantly emphasized that the (new) Syrian constitution guarantees the rights for all Syrian; politically, the FPF delegation affirmed that it is a part of the Syrian opposition and consist of members that acquired their legitimacy by being a part of the uprising on the Syrian theatre and their activities conform to the Syrian opposition agenda and its frameworks. In the same context the FPF delegation called on the Russian government to use its influence and play an active role in the release of detainees and to reveal the fate of kidnapped and missing people perpetrated by the Regime and militias that are part of the Syrian conflict.
The delegation, also asked the Russian counterparts to ensure and assist in the voluntary and dignified return of refugees to their area and to reject demographic changes in all Syrian regions.
Peace and Freedom Front, 25 September 2020. Syria.