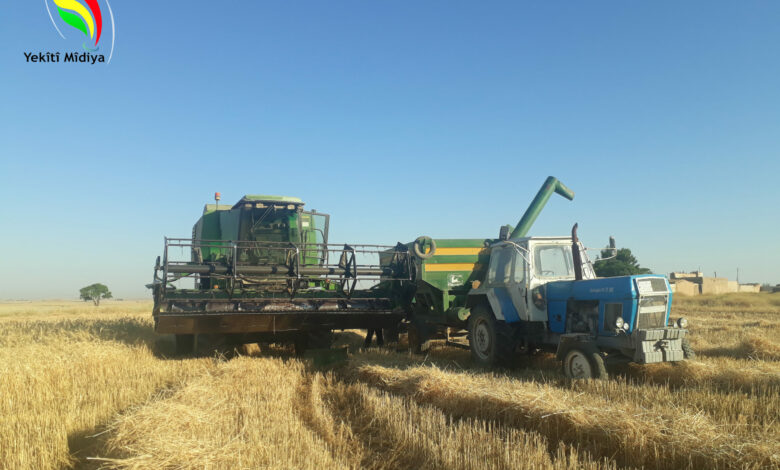 Breaking news
News
PYD Adminstration monopoly on purchasing wheat at a low price threatens the future of the strategic crop
Yekiti Media
Yesterday, the self-administration announced by the Democratic Union Party (PYD) issued a "circular" in which farmers and peasants in their areas of control were prevented from selling the wheat crop to the system and exploiting the price difference between them by 85 Syrian pounds per kilo.
The PYD Adminstration also threatened in its "circulation" anyone trying to remove wheat from its areas of control or sell it to the Syrian regime with what it called "legal accountability".
In the same context, the farmer (A.A.) reported for Yekiti Media that the PYD administration is taking advantage of the citizen's livelihood with all its actions and discounts – according to his description, stressing that the exploitation of the citizen in these difficult circumstances is nothing but declaring war on him.
He said also: The price of 400 SP announced by the Syrian regime does not cover the expenses of any farmer in the Kurdish areas of seeds, fertilizers, spare parts and labor with the accelerating rise of the dollar.
So how can the PYD manage to announce the price of 315 SP, and prevent the people in their last firs from selling their crops to the regime? to take advantage of the price difference, and at the same time sell fertilizer in US dollars. "
Yekiti Media correspondents in Qamishlo, Al-Hasakeh and Amouda reported that the main checkpoints at the entrances and exits of the cities prevent any bus carrying the wheat crop from getting under arrest and detention.
It is noteworthy that the regime of Bashar al-Assad is providing support for ovens to produce bread. On the other hand, observers see the feasibility of the Democratic Union Party administration monopoly on buying wheat without providing support for bread, noting that the Democratic Union exploits the production of farmers from wheat and sell it at the price determined by the regime to the regime, and other destinations .
A previous report published by Yekiti Media explains the high costs of tillage and land cultivation.
One of the peasants asked not to be named, called to raise the price of wheat to 400 SP, or buy it in US dollars according to international prices, or open the door to free trade and allow traders to buy it in proportion to the value of the collapsed lira against the US dollar.
He pointed out that the eastern regions of Qamishlo witnessed this year the cultivation of aromatic crops by 70%, which will increase in all regions with the losses of farmers from wheat cultivation, stressing that this will affect the agricultural reality in the Kurdish region, with injustice, and the unfairness of the right of farmers by the authorities in Region.
It is noteworthy that the Syrian regime announced that it is about to purchase the wheat crop at 400 SP per kilo, while the PYD administration announced it at 315 SP.