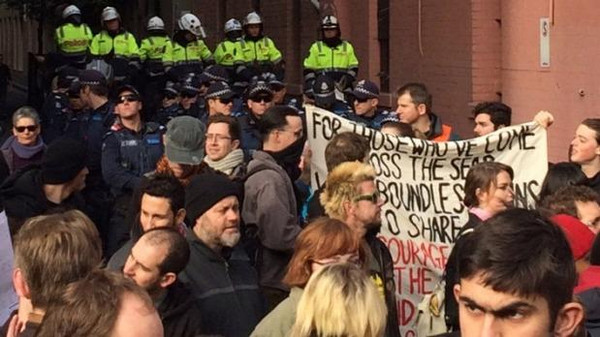 Violent clashes broke out between anti-Islam and anti-racisms groups in Australia on Saturday.
The rallies took place in Melbourne where more than 450 police officers were needed to keep the peace as anti-Islam Reclaim Australia protestors clashed with the anit-racisms protesters, No Room For Racism, the Herald Sun reports.
According to The Age, the right-wing anti-Islam group had begun its rally at 11am when counter-demonstrators from anti-racism groups attempted to breach police lines on one of Melbourne's busiest streets.
Footage of the clashes show protestors from both groups in hooded and masked clothing, keeping their identities hidden.
It is claimed that dozens of Reclaim Australia rallies are scheduled around the country for Sunday, including one at which coalition MP George Christensen will speak at in Queensland on Sunday, stating that he wants to defend Australia's freedoms from "the threat of radical Islam".
Making the announcement on his Facebook page, he said:
"I've made the decision to speak at the Mackay Reclaim Australia rally, I want to support people who seek to defend our Australian way of life, our culture and our freedoms from the threat of radical Islam."
Adding, "I made the decision to speak after reviewing the Reclaim movement's 24 principles. These principles include equality of law, equality of genders and freedom of speech, as well as supporting Australia's right to exile or deport traitors."
It is believed that fear of young Australian Muslims being inspired by militants in ISIS and travelling to fight in Iraq and Syria has reinforced support for right-wing groups such as Reclaim Australia.
Alarabiya