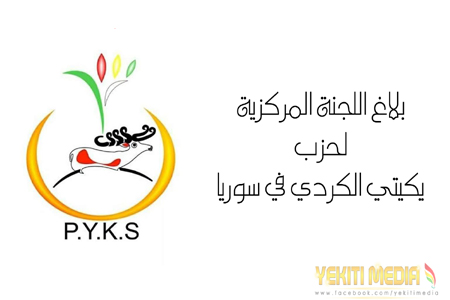 Yekiti Media
The Kurdish Yekiti Party in Syria issued a statment at the end of it,s meeting that last five days in Arbil/ Hawler city in Iraq Kurdistan region.
The party discussed the political situation in Syria and Kurdistan Syria, especially the international efforts to find a solution for the Syrian crisis according to the international decisions especially the 2254 decision on the basis of Geneva reference.
The meeting carry the Syrian system the responsibility of the impeding the formation of a constitutional commission and it,s depending just on the military solution.
The meeting emphasized on the need for put an end for the Iranian system criminals and the supporting for terrorism and it,s threatens for the international peace and stability and it,s intervention in human resources in the region.
The meeting also stressed on the need for continuity the participating of the Kurdish national council "ENKS" in every political forums under the auspices of the United nations to resolve the Syrian crisis for install the rights of the Kurdish people in the Syrian future constitution.
The meeting also stressed on the role of the party in "ENKS" and the considered that "ENKS" is the only body that represents Kurdish people in international forums which concerning the situation in Syria .
And  the violations which the Militias do in Afrin city in front of the Turkish army which should stop it, and also the meeting condemned the demographic change processes and the necessity of exit the armed factions and the Turkish military forces from Afrin and delivery of city management to local council.
The meeting emphasized on the importance of the developments of the relationships with the Kurdish parties on the basis of the national Kurdish project.
And the meeting praised on the special role for The Kurdistan Democratic Party (KDP) under the leadership of president Masoud Barzani.
The meeting condemned the practices of the democratic union party especially the military conscription and imposition of special curricula and grab of private property and political detention for members of "ENKS" which led to immigration of citizens of their areas.
The meeting talked about the internal situation of the Party and the difficulties which it faced and discussed the party,s situation in Europe.
The Party took A decision for a conference as soon as possible.
The meeting commended the efforts of the Media especially "Yekiti Media" website.
The meeting thanked The Kurdistan Democratic Party (KDP) for hospitality in Kurdistan region