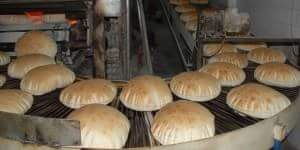 Yekiti Media – Qamishlo
26/4/2016
Syrian regime regained the West Automatic Bakery         (Baath Bakery ) in Qamishlo city yesterday evening  on April 25th, 2016  from  Democratic Union Party Asaish (PYD) without  shooting  .
One of the bakery staff said to Yeketi Media , without mentioning his name, that the regime is in the process of running the bakery during the next 24 hours until returning the equipment and the machinery which PYD had taken them including the electrical generator.
The same source added that the police had contacted all the employees to return officially to the bakery to restart as in the past.
It is worth to mention that the automatic bakery in the western locality and  the central prison in Allaya locality dominated by PYD Asaish  after two days of clashes with National Defense militia , and as a result more than 30 civilians and Asaish lost their lives and more than 20 others injured .