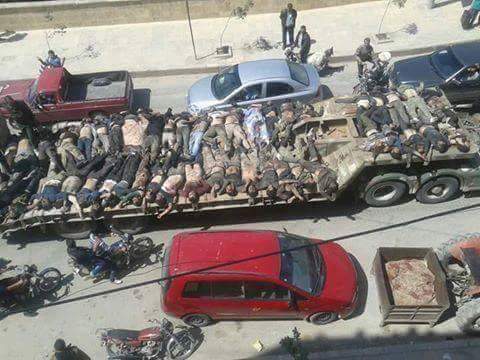 Breaking news
News
Democratic Union Party ( PYD ) Displayed the Corpses of the Syrian Opposition Fighters in Afrin city , North Syria
Yekiti – Media
The PYD Militia ( YPG ) displayed the corpses of the Syrian opposition fighters on Thursday , April 28th , 2016 .
The media quoted that clashes erupted between PYD fighters and the opposition forces on Wednesday evening 27th of April , 2016 in Tel Daqenah village surroundings near Tel Rifat in Aleppo countryside , and the result was 60 killed fighters published by images cruising in Afrin city streets. Several sources confirmed that the opposition fighters had been ambushed by YPG .
It is important to mention that YPG committed the same action in Amouda city two years ago .