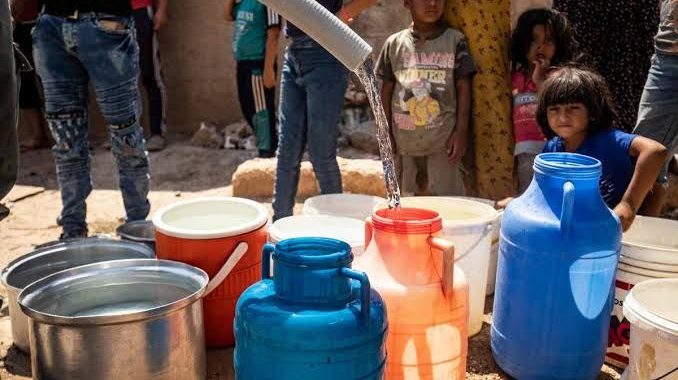 Al-Hasakah city has been suffering from a loss of drinking water for more than ten days, despite the high summer heat, due to the weak quantity received from the Allouk water-station, which is under the control of the armed factions loyal to Turkey, in the countryside of Serêkaniyê.
The administration of the Democratic Union Party (PYD) prevented water tankers from entering the city of Al-Hasakah and roaming inside it under the pretext of maintaining security on Eid al-Adha, to be a feast without water.
Ms. Sherine confirmed for Yekiti Media that they are facing difficulty in securing drinking water due to the poor pumping of water.
She added, "We are forced to use well water (which is bitter and salty in the city of Al-Hasakah) for washing, bathrooms and other external uses."
And she continued, "As for drinking water, we have to buy it from tanks, despite the high price of a 5-barrel tank, ranging from 7000 Syrian pounds to 8000 Syrian pounds."
Sherine concluded her speech by saying, "Even the tanks have been stopped now for days because of the feast, and we spent our feast without drinking water, which prompted us to buy mineral water these days."
For his part, Mr. Obeid, the owner of a water tanker, told Yekiti Media, "The rise in the price of a barrel of water for them came due to the increase in the price of diesel and gasoline."
He added, "We are forced to buy diesel fuel at a high price from sellers due to its unavailability in gas cylinders and the unreasonable crisis of the role. We are also forced to buy gasoline (for pickpocketing) also at a very high price from sellers due to the lack of it at gas stations."
He explained, "This high price pushes us to raise the price of the tank 5 barrels to 7000 Syrian pounds, and some raise it to 8000 Syrian pounds."
Activist Redy Oso told Yekiti Media, "The PYD administration is deliberately creating crises in the cities and towns of Syrian Kurdistan."
He added, "The PYD administration sometimes invokes the armed factions to cut off the water in Al-Hasaka, but what about the lack of bread and the poor quality of it, the lack of diesel and gasoline at gas stations, the lack of regular electricity hours, and the insanely high prices… the list goes on and on."
Oso concluded his speech by saying, "It became clear to everyone that this administration's mission is to steal the region's wealth and smuggle it to the Qandil Mountains on the one hand, and to tighten the noose around the Kurdish people and push them to flee, empty the region to the rest of the components, and consolidate the scheme of Muhammad Talb Hilal on the other hand."
The city of Al-Hasakah in Syrian Kurdistan has been suffering from a frequent loss of drinking water since the Turkish forces and the factions loyal to them took control of the Serêkaniyê area and its countryside, without developing alternative solutions by the Democratic Union Party (PYD) administration, the Syrian regime, or humanitarian organizations