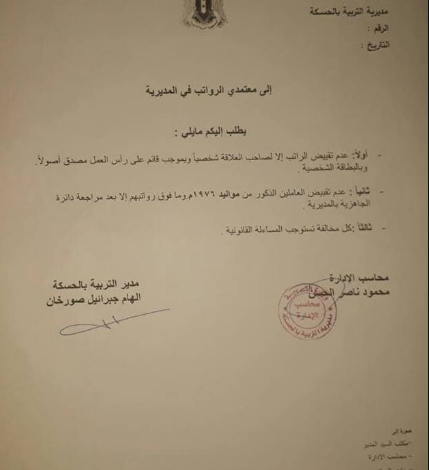 Breaking news
News
ALhasakeh.. The Government Regime stoped the salaries of the employees
Yekiti Media
The Syrian Government Regime stoped the salaries of dozens employees in ALhasakeh city in this month "october" because they don,t join to the Backup service in Syrian Regime forces.
A local source said that the department of eductionin in ALhasakeh in cluded the list of the names of the employees which thier salaries will stop from the next month.
they are 185 employees who wanted for Backup service.
The department of eductionin in ALhasakeh asked the Certified salaries to not disbursed the salaries for teachers "males", from 1976 and above anless to Review of official department "ALjajeziyah".