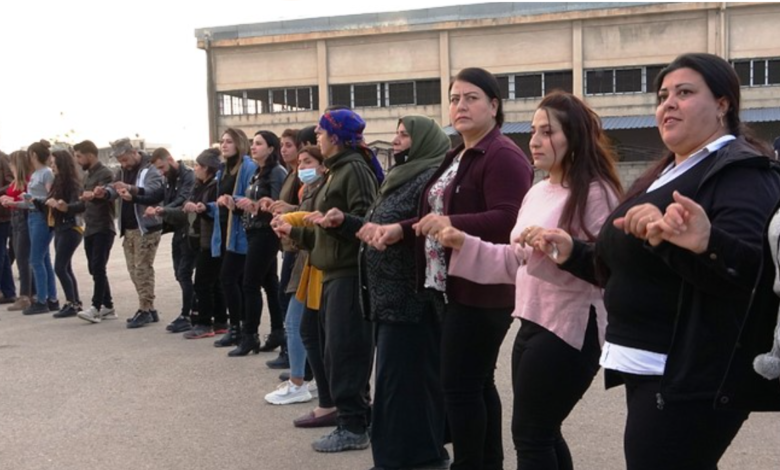 Breaking news
News
Amidst the imposed ban, PYD supporters celebrate in Qamishlo and Dirk the anniversary of the founding of the Kurdish workers
Yekiti Media
At Friday, members and supporters of the Democratic Union Party (PYD) organized celebrations in the cities of Qamishlo and Dirk, on the occasion of the forty-second anniversary of the founding of the Kurdistan Workers Party (PKK), amid the ban imposed since Thursday, 26.11.2020, to prevent the outbreak of Covid-19.
Qamishlo city, which has been under a complete ban since Thursday, in which the Democratic Union Party organized a celebration with the participation of dozens of members and supporters of the party in (Dabbagh Market / Hittin), without any preventive measures against the Corona virus, in contrast, activists reported that the Asayiş of the Democratic Union prevented citizens from roaming in the city Threatening them with arrest.
Activists expressed their surprise at the demonstrations and rallies organized by the Democratic Union, while the ban was imposed on citizens.
In Hasaka, activists circulated photos of hundreds of citizens gathered in front of a bread distribution center, which has also been under a total ban since yesterday, amid the Democratic Union's failure to secure the most important needs of citizens during the ban.
In the same context, a medical source stated that the ban imposed for ten days is inconsistent with the recommendations of the World Health Organization, which revealed through its data that the incubation period of the virus in the human body lasts for 14 days.