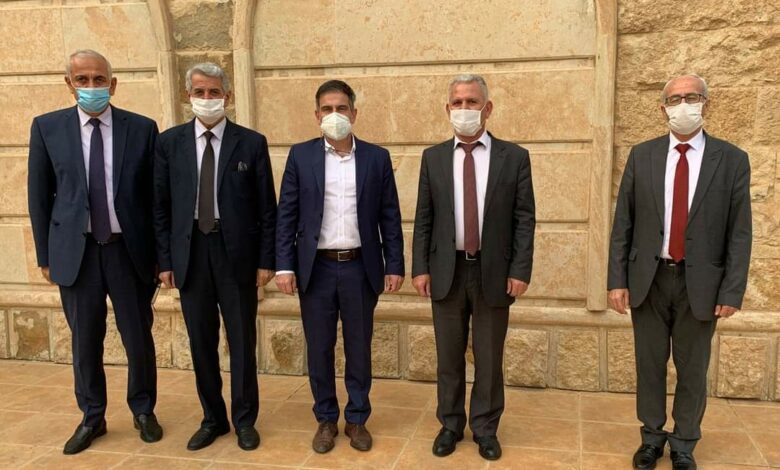 Breaking news
News
Press Release.. Peace and Freedom Front PFF delegation meets the German Consul in Erbil
Yekiti Media
On Saturday November 21, 2020, a delegation from PFF met at the German Consulate in Erbil with his excellency the German Consul, Mr. Klemens Semtner.
The PFF delegation included Messrs. Muhammad Ismael and Suleiman Osu, representatives of the Kurdish National Council, and Messrs: Daoud Daoud and Gabriel Moshe, representing the Assyrian Democratic Organization.
During the meeting, the delegation gave a comprehensive overview of the establishment of the PFF, its future vision regarding Syria, and PFF activities since its formation, as well as, its eagerness to continue working with the Syrian opposition forces in order to achieve a political solution in the country in accordance with international legitimacy resolutions, especially UN Resolution 2254; and its role in bridging the views between various opposition forces.
In return, His Excellency the Consul welcomed the PFF delegation and expressed his appreciation for its political vision, which he described as progressive, and praised the activities and meetings that is carrying out, and expressed his optimism toward the PFF's ability to achieve further progress and gain confidence among the Syrian opposition forces.
His Excellency showed interest in inter-Kurdish negotiations and its importance, in which the Kurdish National Council is a major participant. His Excellency also stressed the importance and success of those negotiation and consequently to be opened up for participation of all Syrian components of the region; for it would have a positive effect and importance in achieving security, stability and development.