Breaking news
News
Armed group kidnaps and hit Yekiti Media correspondent in Darbasihah
Yekiti Media – Darbasiyah
An armed masked group had abducted and beat Jenkin Aliko -Yekiti Media correspondent in Darbasiyah at Monday 04/01/2016.
The armed group kidnapped Yekiti Media reporter near of the local council building in the city and took him to a nearby area of Ras Al Ain city, where proceeded to beat him severely with metal rods according to assurances reporter Jenkin Aliko, who added that after he returned to consciousness he went to a parked truck drivers on public road who rescued him and took to Darbasiyah.
Jenkin confirmed that some members of the group were speaking Kurdish and some Arabic and told him that they belonging to the Asayish. In the same context, some witnesses reported to Yekiti Media that at the time the group was trying to take him some civilians approached them but the group deported the people and assured them that they are affiliated to Asayish.
On the other hand, the medical staff in the Darbassiyah hospital stressed that Jenkin is suffering from fractures of the upper limbs.
It is noteworthy that the armed group took possession of all what Jenkin had, including his cell phone.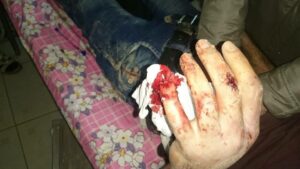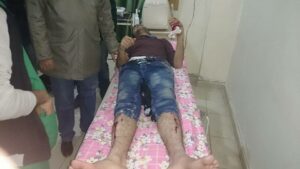 (Translated by: YekitiMedia "Ahmed Ali")