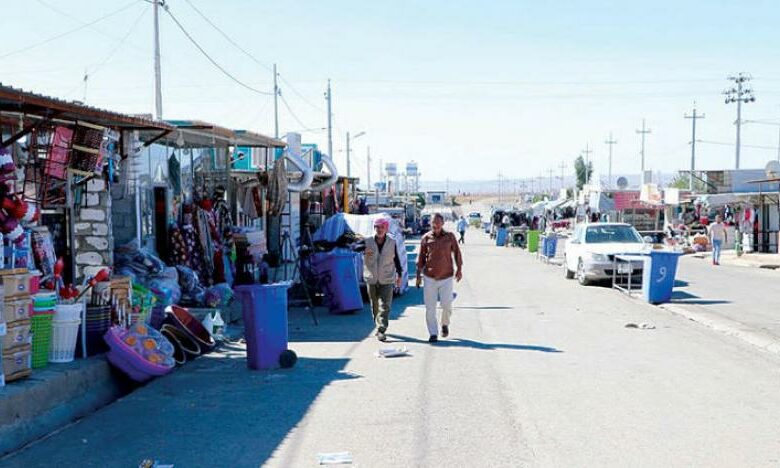 Sitting in a UNCHR tent in the Dar Shukran Syrian refugee camp in the Iraqi Kurdistan Region, Najmeddine and his neighbor, Suleiman, 47, discuss the ongoing war in their country and failed international efforts to reach a political settlement.
Najmeddine, who hails from northeastern Syria, sought refuge in Kurdistan in mid-August 2013. Since then, thousands of Syrian Kurds have crossed into the autonomous region through the Syrian Simalka and Kurdish Fishkhabur crossing to escape the war.
Najmeddine recalled to Asharq Al-Awsat: "At the time, we expected to stay here for a few weeks or months. It has now been five and a half years and I am waiting impatiently to return home."
He lives with his wife in a tent that does not protect them from the harsh winter. His children have since departed for Europe.
Dar Shukran lies 47 kilometers west of the Kurdish capital Erbil. It was set up in the summer of 2013 to accommodate the growing number of refugees coming from northern Syria.
Suleiman recounted how his youngest daughter, now aged four and half years, was born in the camp and has never been to Syria. The rest of her siblings were very young when their family was forced to abandon their home and seek refugee in Kurdistan.
"They innocently ask if they had a house there and when will they be able to return," he told Asharq Al-Awsat.
He said that the camp residents complain of the aid agencies' halt in providing food relief.
"Most of the food aid has stopped and employment opportunities are almost nonexistent. We have spent all of my savings," he added.
According to the Dar Shukran administration, the camp is comprised of 2,480 tents and hosts some 2,500 families, totaling some 13,000 refugees. This makes it the second largest camp in Kurdistan after the Domiz camp in the Dohuk province.
Dar Shukran is not closed off, however, and refugees are allowed to exit and enter it freely. They are also allowed to freely move within the Kurdistan borders and take up jobs if they have the necessary documents.
Of the some 250,000 Syrian refugees in the Kurdistan Region, some 70,000 live in camps. Currently, Kurdistan hosts eight camps, four of which are located in Erbil, three in Dohuk and one in the Sulaymaniyah province.
The Dar Shukran camp boasts three schools that follow the Kurdish curriculum where students are taught Arabic and Kurdish.
Daleel, 28, said that more and more refugees in the camp are growing illiterate because they are facing difficulties in adapting to the Kurdish curriculum.
A school director, Ahmed Mahmoud, added that education in the camp is suffering due to the lack of support from international agencies and the lack of salaries to pay teachers.
He also spoke of a shortage in teachers, explaining that there are not enough teachers for all school grades.
Schools are not even equipped with heaters for the winter, he lamented.
Strolling in the camp, one will notice dress, telephone and cosmetic stores, cafes restaurants and tailor shops. It appears that many Syrian residents of Dar Shukran prefer not to return home.
Ibrahim, a man in his 30s who came to the camp five years ago, said: "Day after day, I become more alienated from my country. The majority of us here are looking to settle elsewhere."
His mother, however, shared a different sentiment.
"My one wish is to return and spend the rest of my days in my home and among my relatives," she stated.