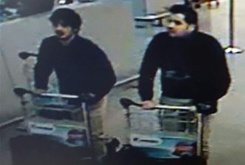 Reports & Files
Brussels airport bombers named as brothers linked to Paris suspect: report
A picture released on March 22, 2016 by the Belgian federal police on demand of the Federal prosecutor shows a screengrab of the airport CCTV camera showing suspects of this morning's attacks at Brussels Airport, in Zaventem
Two suicide bombers who blew themselves up at Brussels airport are believed to be brothers who were being sought for links with key Paris attacks suspect Salah Abdeslam, RTBF television reported Wednesday, citing police sources.
RTBF named the two as Khalid and Ibrahim El Bakraoui, saying Khalid last week rented an apartment in Brussels under a false name where police found Abdeslam's fingerprints after a raid.
Police arrested Abdeslam, Europe's most wanted man, in a dramatic operation in Brussels on Friday.