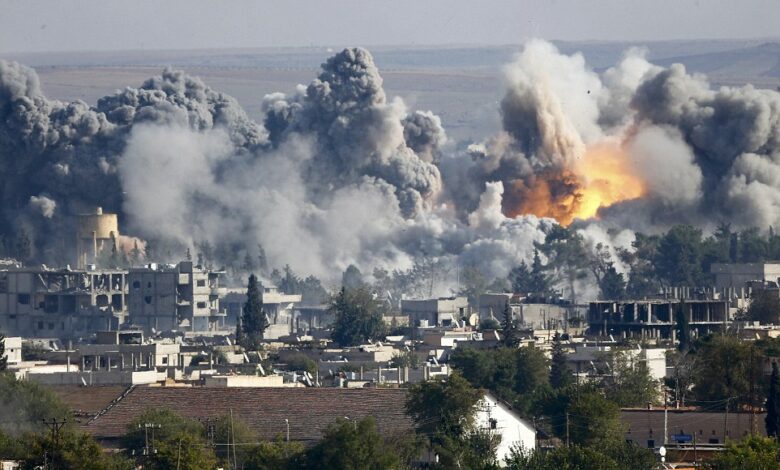 What happened and is happening in Syria generally are a human disaster by all the standards , meanings and  connotations , and what is happening in Kobanî which converted to an open battlefield after emptying it and all the Kurdish villages ( either the administratively followed to it or in the province of Raqqa) of the population under the pressure , threats, killing and bombings,  implies  as if there is a plan to empty the area of its indigenous population, which  means targeting  the roots of existence.
Due to the size of the horrible destruction and full paralysis  that hit and still the infrastructure ofKobanî city and the looting and vandalism which it and its countryside are exposed to , it requires us the necessity of hastening to draw the attention of the free world as well as the relevant authorities and organizations, starting from the United Nations, to this humanitarian disaster which struck our region to do its human and moral duties in order to prepare for the reconstruction of the region and facilitate all the ways that will save the people from suffering of homelessness and displacement.
In this context, we are trying our part as a group of stakeholders and technocrats from the people of the area away from any political umbrella, reaching to establish an independent civilian body under the name of the Independent board for the reconstruction of Kobanî holds the process of counting , documenting the losses and  preparing the studies and designs for the reconstruction, and promote them to the donor by a professional way to get the necessary financing, as well as  follow up the reconstruction on the ground and the contributing to the implementation processes.
We have decided to start the work of the body by forming a preparatory committee pursue its work until the completion of the  organizational structure of the Board of Directors and offices specialized in all its ramifications.
We are in this occasion ask all those involved and interested academics and technicians to contribute to the support and embrace this initiative, which aims first and foremost to return the life to our region, whether through active participation or provide us with suggestions and ideas that will activate the work of the Board and revitalize it to serve the goal for which it was launched .
The Independent Board for the reconstruction of Kobanî
Of the Preparatory Committee
Dr. Musallam Talas
8/12/2014
E. mail: desteyakobani@gmail.comE-mail: desteyakobani@gmail.com