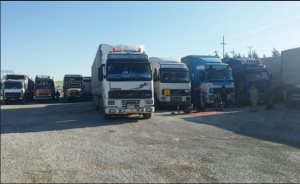 Breaking news
News
Democratic Union Party (PYD) Military Roadblocks Obstruct entering Goods and Vegetabels to Syria's Kurdistan:
Military roadblocks that set up around Mabrouka town and which belonged to the Self-Management that proclaimed by Democratic Union Party (PYD) prevents the vans that lift the goods and vegetables to go into Al Hassaka province due to security reasons as PYD pretends and the militants are stopping and checking the vans for a long time as a merchant says that checking one van takes a day and this causes damaging tones of vegetables .
The same merchant said that PYD does it intentionally to create a public opinion about the missing of the goods and specially the vegetables and referring to Semalka border crossing closing (a border crossing between Iraq's Kurdistan and Syria's Kurdistan ) is the reason .
It is important to mention that most of the main vegetables are missing in the markets and their prices are rising to more than 1000 SP for only a kilo.
Yekiti Media