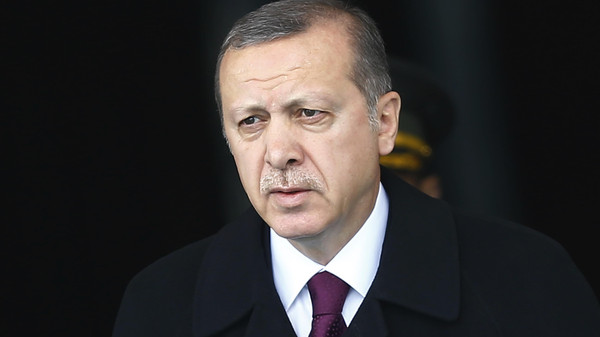 An unprecedented rift emerged Sunday between Turkish President Recep Tayyip Erdogan and the government over the handling of the peace process to end the decades-long armed struggle by Kurdish militants.
A senior minister told Erdogan to stop interfering and making "emotional" statements but the president snapped back that he had no intention of staying out of politics.
In remarks published in pro-Erdogan newspapers Sunday, the president said a meeting between the government and pro-Kurdish lawmakers three weeks ago to announce a call for disarmament was "not appropriate".
The dispute is the most significant yet since Erdogan took the presidency in August 2014 after over a decade as premier, although analysts have noted increasing tensions between himself and hand-picked Prime Minister Ahmet Davutoglu.
"His (Erdogan's) statements like 'I did not like that' or 'I'm not happy about that' are emotional and are his own views," said Deputy Prime Minister Bulent Arinc.
"The peace process is being carried out by the government and the government is responsible for this question," said Arinc, the official cabinet spokesman.
His remarks were seen as a stinging rebuke to Erdogan, and the independent T24 news website said the dispute had become the most serious internal crisis in the more than 12-year rule of the Justice and Development Party (AKP).
Erdogan hit back by saying late Saturday: "I consult with my people on every issue. I am the president."
The dispute stems from a government plan to create a monitoring committee to oversee the process to end the decades-long conflict with the Kurdistan Workers' Party (PKK).
Erdogan strongly disputes the idea, arguing that Turkey's National Intelligence Organisation (MIT) should handle the whole issue.
The president meanwhile expressed anger at a joint public appearance at the Dolmabahce Palace — the office of the prime minister in Istanbul — on February 28 by Deputy Prime Minister Yalcin Akdogan and pro-Kurdish lawmakers.
Sirri Sureyya Onder, a lawmaker from the pro-Kurdish Peoples' Democratic Party (HDP) read out a message at that meeting from jailed PKK leader Abdullah Ocalan urging the group to lay down its arms.
"I did not find the meeting that was held there to be right. I did not think the picture of the deputy prime minister side-by-side with a parliamentary faction was appropriate," Erdogan said.
Ocalan on Saturday issued a new statement marking the traditional Kurdish New Year, calling for a congress to end the rebellion but falling short of setting a clear timetable for PKK disarmament.
AFP, Istanbul
Sunday, 22 March 2015