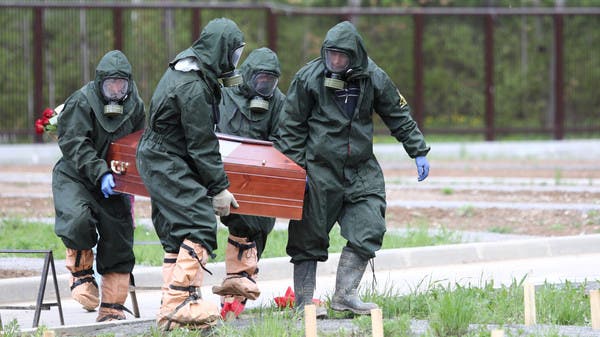 As Russia's surging coronavirus infections have turned it into a global epidemic hotspot second only to the US, one thing puzzles health experts: Why is it reporting so few deaths?
Russian officials say 2,305 people have died so far from COVID-19 out of 252,245 confirmed cases since the epidemic erupted.
Russia's total cases on Tuesday overtook those of Spain, which has reported close to 27,000 deaths, after passing the UK and Italy, which have more than 13 times the Russian level of fatalities.
The World Health Organization said it's in talks with Russia about the country's statistics for coronavirus deaths, which at 0.9 percent is far below the global average and the lowest among nations with the highest numbers of infections.
"We as the WHO are closely discussing this with the Russian authorities, Melita Vujnovic, the organization's chief representative in Russia," said in a phone interview last week. "They are looking at the entire mortality to see if something has been missed." Vujnovic told Russian state TV on Wednesday she doesn't believe the authorities are deliberately downplaying the mortality rate but a "re-calculation of the death toll may happen. The Health Ministry didn't respond to requests for comment for this article.
The Geneva-based agency of the United Nations issued guidelines in mid-April asking countries to register fatalities linked to COVID-19 "where the disease caused, or is assumed to have caused, or contributed to death. Data from four Russian regions, though, suggest deaths may be far higher when cases are counted in which patients diagnosed with the illness died of other conditions such as liver or heart failure."