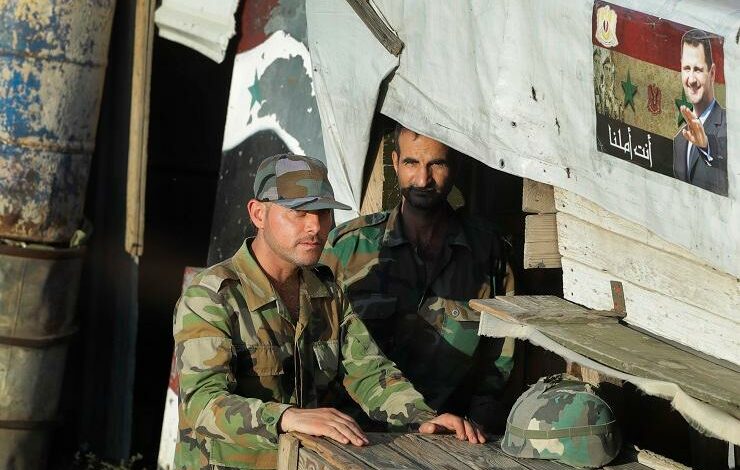 Yekiti Media
Damascene activists no longer dare to talk about the latest regime practices, the last of which was capturing young men and making them join the army.
A Syrian journalist, who preferred staying anonymous for security reasons, told Al Arabiya that "there's a curfew for young men aged between 20 and 40 in Damascus, as a result of their refusal to join the Syrian army."
He added: "I have many relatives who joined the army by force, after they were arrested on checkpoints on their way to work. They were sorted to serve the army in the countryside of Damascus, especially for the forces of al-Dreij village.
He further revealed that "some of them were government-sector employees and had served the army years ago."
Syrian young men in Damascus and its suburbs are constantly worried. Most of them don't leave their houses due to the number of checkpoints that could detain them and place them in the Syrian army.
The process is not aimed at young men opposing the regime only, it also includes its supporters.
Another journalist living in Damascus told Al Arabiya that "even people who did not express any political opinion throughout the war were being dragged to join the army," adding that "the regime is not showing mercy to anyone."
In an attempt to express how bad the situation is, he said: "The regime would pull out the dead from their graves and make them join the army, if it could."
The journalist, himself scared of being dragged into the army, said that "Assad's Recruitment Public Administration does not update its data. They have previously sent letters asking young men, who passed away during the war, to join the army."
"Whoever pays huge bribes to those close to the regime can get away with not joining the army, but those who do not have connections or the money will have to join even if they have reason not to; such as studying or having previously served the army."
Despite the regime previously announcing amnesty to those who did not join, locals say that it is just "ink on paper" and that it was made to trick them into leaving their houses, only for them to be detained and forced to join the army.
Raids extend to shelters
Military raids and campaigns even extended to shelters that the Syrian regime made for the displaced across the country.
The latest raid was on a shelter called al-Harjalah, whose residents were displaced from Daraya and Eastern Ghouta.
Activist Ghiath Abu Ahmed told Al Arabiya: "Many shelters have been raided by the regime and its men were taken away for military service."
Abu Ahmed added that "even if they didn't have orders to detain these men, they do it anyway and later sort them in the army."
Anger has dominated the Syrian scene a couple of days ago, after a picture surfaced on social media showing chained young men said to have refused joining the army, with some users on Facebook describing it as "slavery".
alarabiya