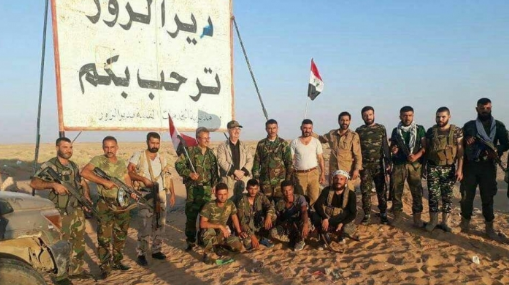 The Iranian militias of the Islamic Revolutionary Guard Corps sent new military reinforcements to the village of al-Jalaa near the city of Alboukamal, southeast of Deir al-Zor, Eastern Syria, after the Islamic State (IS) attacked the militias' locations in the area.
A military source reported that the Islamic Revolutionary Guard Corps and the National Defense militia of the Syrian government forces sent about ten vehicles carrying members and two ambulances to the area. The source added that most of the members are from Deir al-Zor, who joined the Islamic Revolutionary Guard Corps.
Local sources said that the militias blocked the road between Alboukamal and Deir al-Zor after the IS attack. The militias forced people heading for Damascus to take the road through the desert.
The IS attached the Iranian militias locations near Alboukamal and announced detaining 15 militia members.
Earlier, the Iranian militias, which are loyal to the Syrian government, brought military reinforcements to their locations west of the Euphrates River in the Deir al-Zor governorate, hundreds of members from the Islamic Revolutionary Guard Corps, Liwa al-Quds, Liwa Fatemiyoun, and the Lebanese Hezbollah were killed in several Syrian governorates.
Smart