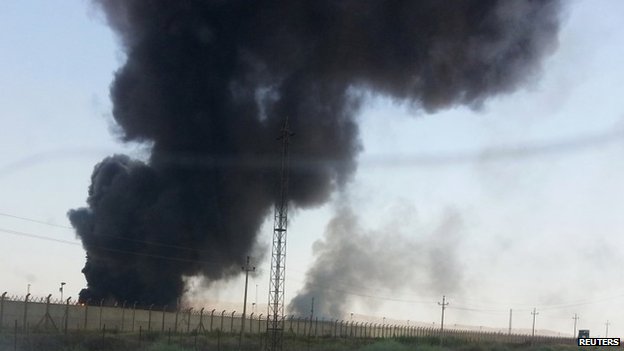 Iraqi forces say they have driven away Islamic State militants from around the country's largest oil refinery.
It comes a day after officials said they had retaken the nearby town of Baiji, which had been under militant control since June.
The top US military officer, General Martin Dempsey, has also arrived in Iraq on an unannounced visit.
It is his first trip since a US-led coalition began a campaign of airstrikes against the militants.
More than 1,000 non-combat American forces are in Iraq to help train the national army. President Obama has authorised sending up to 1,500 more to support Iraqi forces.
Earlier this week, the general told the US House of Representatives armed services committee that the door remained open to sending US combat troops to help Iraqi forces retake the northern city of Mosul, which IS overran in June.
"I'm not saying I'm recommending that," he told the committee, "but we're certainly considering it."
Supply lines
The Baiji oil facility, 200km (130 miles) north of Baghdad, accounts for around a quarter of Iraq's oil production.
"Iraqi forces… reached the gate of the refinery," the governor of Saladin province, Raad al-Juburi, told the AFP news agency.
Al-Hadath television said security forces had entered the refinery compound, the Reuters news agency said.
Fully clearing Baiji and the refinery of IS fighters would enable Iraqi forces to cut key the militant's supply lines, says the BBC's Hugh Sykes in Baghdad.
BBC