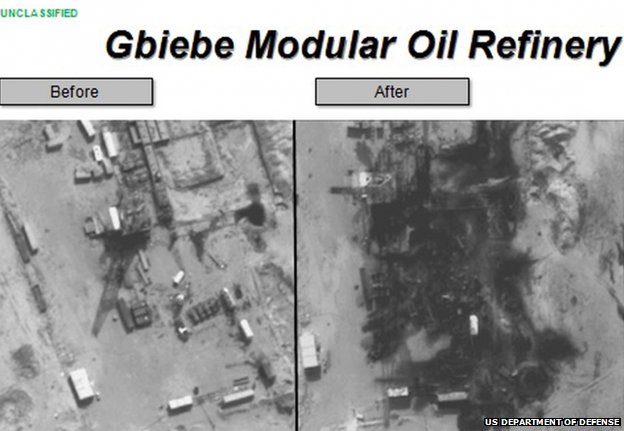 News
Islamic State: US releases oil refinery strikes images
The US military has released footage and still photos of its air strikes on oil refineries controlled by Islamic State (IS) militants in eastern Syria.
The raids, carried out by US, Saudi and UAE aircraft, targeted 12 refineries in Syria on a third night of air strikes against the militants.
IS has seized large parts of Iraq and Syria in recent months.
Sales of smuggled crude oil have helped finance its offensive in both countries.
The US has launched nearly 200 air strikes against the militants in Iraq since August and on Monday began targeting IS in Syria.
'Not over'
Footage released by the US Department of Defense on Thursday showed an overnight US air strike on the Jeribe refinery. Still images also showed the aftermath of this strike, and another attack on the Gbiebe refinery.
The strikes hit "small-scale" refineries that were producing "between 300-500 barrels of refined petroleum per day", the Pentagon said.
Pentagon spokesman Rear Admiral John Kirby said the purpose of the strikes was "not necessarily to kill militants" but to destroy the facilities, which were funding IS through the black market.
He said that the strikes had been effective but not yet decisive: "Even after the hits they've taken, and they have been hit, they still have financing at their fingertips.
"They still have plenty of volunteers. They still have plenty of weapons and vehicles and the ability to move around."
It was, the Pentagon spokesman said, too soon to talk of "winning" against IS.
Rear Adm Kirby said that he was aware of reports that five civilians had been killed alongside 14 IS militants and the Pentagon was investigating.
Ten fighters from the UAE and Saudi Arabia joined six US jets to carry out Wednesday night's strikes, according to the US military.
Islamic State (IS) oil production
IS is believed to control six out of 10 of Syria's oil fields, including the Omar facility, and four small fields in Iraq, including Ajeel and Hamreen
Production in Syria is estimated at 50,000 barrels per day and 30,000 in Iraq, generating revenue of between $1m (£600,000) and $5m per day
Oil is sold to local merchants, or to middlemen who smuggle it into Iraqi Kurdistan or over borders with Turkey, Iran and Jordan, and then sell to traders in a grey market; oil is also sold to the Syrian government
Seizures of smuggled fuel in Turkey rose from 35,260 tons in 2011 to more than 50,000 tons in the first six months of 2014, before the Turkish authorities began to crack down on illegal trade
Sources: Financial Times, EIA, Iraq Energy Institute, Maplecroft
In northern Syria, Kurdish forces say they have now pushed IS back after tens of thousands of Kurds fled to Turkey.
Kurdish forces said they had pushed back IS fighters near the Syrian town of Kobane, close to the border with Turkey.
IS had besieged Kobane for several days, taking control of the surrounding villages and forcing more than 140,000 Syrian Kurds to flee into Turkey.
The BBC's Mark Lowen, who is on the Syria-Turkey border, says some of those Kurds are now trying to return to Kobane to fight with the Kurdish militia.
The US says more than 40 countries have offered to join the anti-IS coalition.
On Wednesday, the UN Security Council adopted a binding resolutioncompelling states to prevent their nationals joining jihadists in Iraq and Syria.
BBC