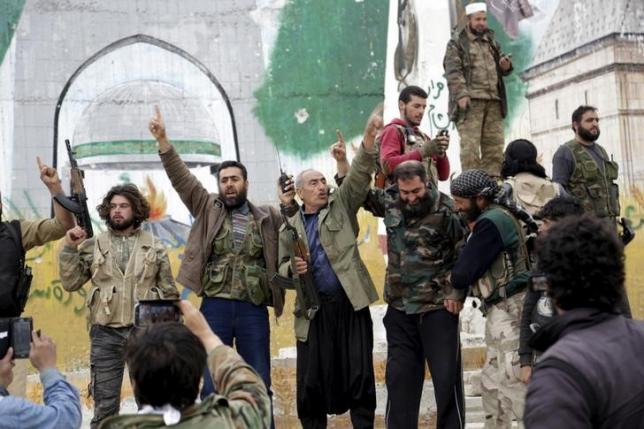 (Reuters) – Islamist groups including al Qaeda's Nusra Front have seized the city of Idlib for the first time in Syria's civil war, fighters and a monitoring group said on Saturday.
By taking Idlib, capital of a northwestern province of the same name, hardline Islamist insurgents now control a second province after Raqqa, the stronghold of the Islamic State group which has been the target of U.S.-led air strikes.
Sunni Islamist groups have formed an alliance which includes Nusra, the hardline Ahrar al-Sham movement and Jund al-Aqsa, but not Islamic State, their rival. They launched the offensive to capture Idlib city on Tuesday.
Syrian officials could not be immediately reached for comment. State media said fighting continued and the army had managed to halt the insurgents' advances on the northern, eastern and southern sides of the city.
"The army is fighting fierce battles to restore the situation back to what it was," state television said, adding that the army had killed hundreds of fighters.
Groups taking part in the offensive to seize the city posted videos on the internet showing fighters roaming the streets. Voices in the videos said they were in the center of the city.
The film showed insurgents shooting in the air and chanting "Allahu Akbar" (God is greatest) outside a compound formerly held by government forces.
"ARMY OF FATAH"
Idlib, a city whose population has been swollen by hundreds of thousands of displaced people from other parts of Syria, is close to the strategic highway linking Damascus to Aleppo and to the coastal province of Latakia, a stronghold of President Bashar al-Assad.
"They have entered the city from several sides but the major push was from the northern and western sides," said Rami Abdelrahman of the Syrian Observatory for Human Rights, a British-based group which monitors the civil war.
The Islamist alliance calls its operation Army of Fatah, a reference to the conquests that spread Islam across the Middle East from the seventh century.
Footage posted on the internet earlier on Saturday by Nusra Front showed dozens of fighters in the streets of what a voiceover said was Idlib city.
"This is my house, for four years I have not entered it. This is my neighborhood, this is our country and by God's will we will liberate it and settle Muslims in it," a fighter said in the video.
He was welcomed by several men. Some embraced him and wept.
In another video, fighters were shown on top of a building which bore the insignia of Assad's Baath party, trying to tear down huge posters of the president.
Syria's four-year-old war has killed more than 220,000 people and forced millions out of their homes.