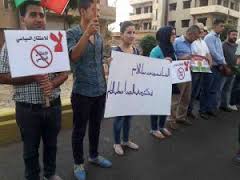 Yekiti Media Qamishlo 25-06-2016
At the invitation of the Kurdish Yekiti Party, tens staged a sit-in front of Kurdish Yekiti Party Office-East (Suleiman Ade), in evening; denouncing practices carried out by Democratic Union Party (PYD), particularly the arrests of leaders of the affiliated parties under Kurdish Nationality Council banner.
In the presence of Kurdish Council Parties representatives, a group of intellectuals and activists, and Organizations of (East and West) Qamishlo city the sit-in began with raising detainees' images and signboards denouncing the political arrests and demands immediate release of kurdish politicians and activists, led by Abdel Rahman Apo, who arrested in Afrin dated 05-03-2016 and Anwar Naso, who arrested in Amouda dated 28-05-2016.
In addition, master Hassan Salih in his turn delivered a speech in which he thanked all attendees, and denounced the PYD practices in All Kurdish areas in Kurdistan of Syria, including arrests which affect leaders and members of the affiliated parties under Kurdish National Council banner, and to refrain from unfair sentences, in the forefront of forced conscription, noting that PYD has not been democracy, which calling out by any link, stressing that Kurdish Council will remain constant in peaceful activities against these irresponsible practices. It is worth mentioning that PYD has carried out many arrests across kurdish areas under pretext and accusations described by politicans too long ago for the truth reality.