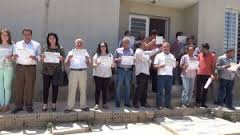 Breaking news
News
A sit-in in front of Amouda city Office Yekiti Kurdish condemn the Arab belt:
Yekiti Media- Amouda
Kurdish Yekiti Party in Syria – Amouda Organization organized a sit-in in front of the party office to condemn the Arab belt fateful Friday morning 6/24/2016.
Protesters waved placards denouncing Arab belt, which issued in 1974, under which the confiscation of thousands of hectares of the territory of the Kurdish people and which were distributed to the children of Raqqa city, which came their system in order to change the demography of the region.
Marwan Idi leader of Kurdish Yekiti Party – Amouda Organization explained to Yekiti Media "This sit was complemented by our activities in the annual anniversary of the adoption of the Arab belt, to condemn this racial extraordinary project imposed by the Baath authority in order to change the demography of the Kurdish region."
Idi said that the project of Arab belt deprived thousandth of the Kurdish people from their lands and distributed by the system on Arab expatriates in order to impoverish the Kurdish people and migrated and resettled Arabs in their stead to change the demography of the region.
He said in his interview to Yekiti Media that they are in the Kurdish Yekiti Party stood against this project and will continue until terminated it and restore rights to their rightful owners.
It is worth mentioning that Yekiti Organization Qamishlo shared this activity with Amouda organization.