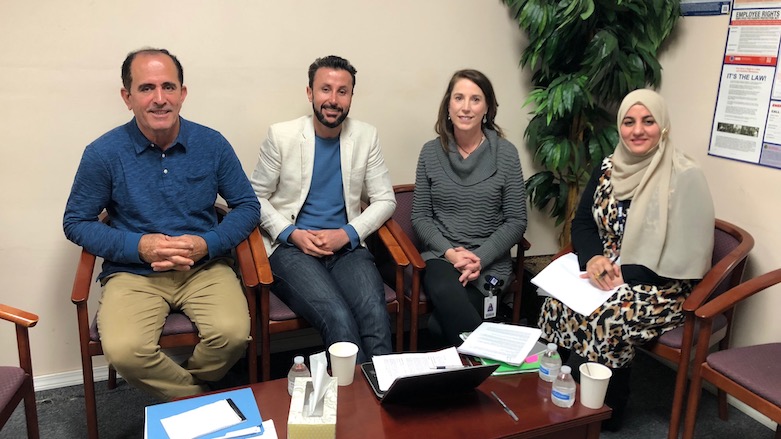 Yekiti Media
After a unanimous vote on Tuesday, the Metro Nashville Public Schools Board decided to include the Kurdish language in a list of international languages available to students for credit. The next step is to get the state's approval.
Nashville, located in the US state of Tennessee, is known for its sizeable Kurdish population and has even earned the nickname "Little Kurdistan." Over 1,100 Kurdish students from different parts of the city attend public schools in Nashville.
The Tennessee Department of Education, which examines all special course requests, including the basis for the course, the district's justification, the course's design, and its application, will have to approve the proposal before the course becomes available to students.
Dr. Haidar Khezri, a Visiting Faculty member and Resident Senior Fellow in the Kurdish Political Studies Program (KPSP) at the University of Central Florida, initiated and led the process of designing the Kurdish language course for the Metro Nashville Public Schools. He said once the Department of Education approves the proposal, preparation for the course can begin.
"So far, this is the first and most important step toward including Kurdish language studies in K-12 schools in the United States," he told Kurdistan 24. "It brings an end to decades of unjustified neglect of the Kurdish language in the United States."
The Kurdish language courses will help Kurdish immigrants "maintain a connection with their Kurdish heritage, and prepare American students for a global society," Khezri added.
The next step will be a workshop for licensed teachers at Metro Nashville Public Schools who are going to teach the courses. Khezri said he plans to lead the workshop which would introduce teachers to the latest methods in teaching Kurdish as a foreign heritage language, and provide them with the available resources and textbooks.
"We are going to address a variety of topics carefully," he explained. "We are planning to give the students the opportunity to learn both Sorani and Kurmanji (Behdini) dialects in both Latin and modified Perso-Arabic scripts."
Yasin Hasan, a Kurdish teacher at Donelson Middle School in Nashville, said the decision to offer the Kurdish language courses is "highly significant" for the Kurdish community.
"We have a very high number of Kurdish students in Metro, and many of them are illiterate in Kurdish," he told Kurdistan 24.
"Having a solid foundation in their mother tongue will increase the students' overall development and would connect them with our culture."
Hasan also suggested that the language is taught in Latin script as opposed to the Arabic script as it may be too difficult for the students.
A "majority of the places in Kurdistan now use the Latin script," he noted. "I would be one of the first ones to apply for the position if it's taught in Latin script."
Meanwhile, Khezri said he would discuss the issue further with two institutions in the US – the University of Central Florida and Indiana University Bloomington – to look for potential further collaborations.