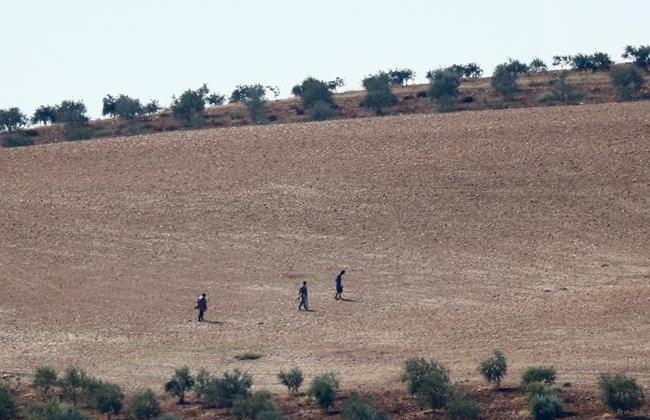 News
Kurds thwart new jihadist bid to cut off Syria town
MURSITPINAR, Turkey: Kurdish forces in the Syrian town of Kobani repulsed a new attempt by ISIS fighters to cut off the border with Turkey Saturday as troops battled the jihadists in neighboring Iraq.
A Kurdish official reported five new U.S.-led strikes around Kobani overnight as the coalition kept up its air support for the town's defenders.
But the U.S. military said that while it saw some "encouraging" signs, the strikes might not prevent Kobani's fall and its priority remained the campaign against ISIS in Iraq.
Heavy ISIS mortar fire hit the Syrian side of the border crossing with Turkey that is the Kurdish fighters' sole avenue for resupply and the only escape route for remaining civilians, Kurdish official Idris Nassen told AFP.
The jihadists launched a fierce attack from the east toward the border gate before being pushed back, he added.
Nassen said that ISIS had taken casualties in the fighting, while the Syrian Observatory for Human Rights monitoring group said the jihadists had sent in reinforcements.
U.N. Syria envoy Staffan de Mistura earlier this month warned that about 12,000 civilians remain in and around Kobane and risk "massacre" if the jihadists cut off the border.
Kobane district chief Anwar Muslim said Friday that ISIS sniper and mortar fire was preventing authorities from evacuating civilians caught up in the battle.
"Their situation is difficult," he added.
An AFP correspondent on the Turkish side reported sporadic exchanges of fire in eastern Kobani later in the morning but said the crossing area was calm.
The U.S. commander overseeing the air war hailed "encouraging" signs in the defense of Kobani, but said the town could still fall and that Iraq remained the coalition's priority.
"Iraq is our main effort and it has to be, and the things that we're doing right now in Syria are being done primarily to shape the conditions in Iraq," Gen. Lloyd Austin said.
Iraqi government troops are battling ISIS on two fronts – in the Anbar provincial capital of Ramadi, west of Baghdad, and near Tikrit, hometown of executed dictator Saddam Hussein.
Ramadi is in a shrinking patch of territory in the predominantly Sunni Arab province where forces loyal to the Shiite-led government still hold ground, and its loss would be a major blow for Baghdad.
Iraqi troops have been struggling to retake and hold ground, despite coalition air support.
Security in the capital also remains a problem with bombings killing nearly 50 people in the past two days alone.
But the Pentagon insisted Baghdad faced no "imminent threat" from the jihadists.
"There are not masses of formations of (ISIS) forces outside of Baghdad about to come in," spokesman Rear Admiral John Kirby said.