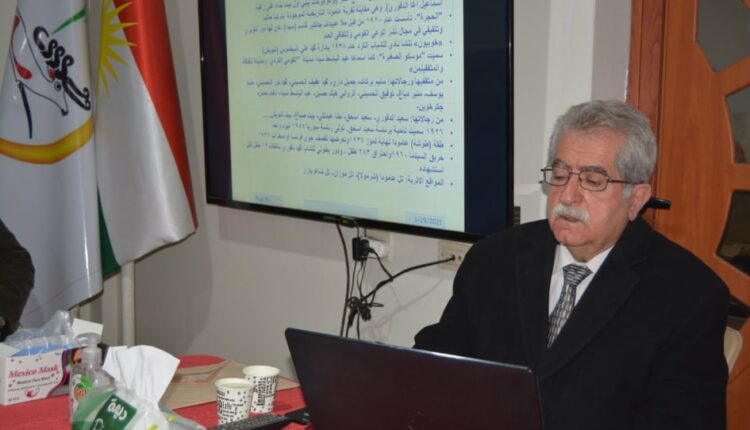 Breaking news
News
Lecture by Bashir Saadi at the Amouda office of the Kurdistan Yekiti Party
Yekiti Media
Friday 01/29/2021, at the invitation of the Amouda Organization of the Kurdistan Yekiti Party – Syria, a General Secretariat member and the official of the Culture and Studies Office of the Assyrian Organization, Eng. Bashir Al-Saadi, delivered a lecture entitled (Events and Forgotten Information in the History of the Syrian Jazeera) attended by a group of intellectuals and interested parties.
The lecture included a presentation of a group of important and rare pictures, maps and documents for the Jazeera region, explaining how the Syrian Republic was established and the international agreements that affected the borders of Syria.
The lecture dealt with the days of unity between Syria and Egypt, the secession, the exceptional census, the closure of Syriac schools in 1959, the closure of the Rafidain Club in Qamishlo in 1962, in addition to the burning of the Amouda cinema, and the events of Darbasiyah in 1946 known as the "Al-Batriyah area", and he drew attention to the role of the Kurds in Protecting the Syriac component in the city.
Al-Saadi touched on building cities on Jazeera with the participation of all components after the French mandate extended its control over the Jazeera and its access to the Tigris River, demarcation of the borders between Syria and Turkey, building institutions and schools and the participation of all components in public life, economically, politically and socially, and their participation in the national parties that were Found.
At the end of the lecture, the attendees contributed with qualitative interventions in which they demonstrated the importance of joining forces to consolidate the rights of everyone in the future of Syria.