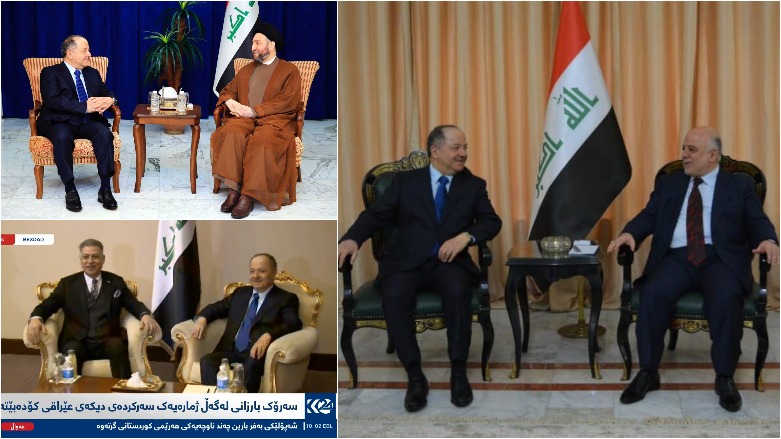 Former President of the Kurdistan Region, Masoud Barzani, during his second-day visit in Baghdad met with several senior Iraqi leaders to discuss the current situation in the country and disputes between Erbil and Baghdad.
Barzani, the current President of the Kurdistan Democratic Party (KDP), headed a delegation of senior Kurdish officials to Baghdad, the first such visit since the Kurdistan Region's independence referendum held last year in the region and disputed territories.
After his initial Thursday meetings, Barzani met separately with the leader of the Iraqi Turkmen Front, Arshad Salihi, former Prime Minister and current leader of Nasr (Victory) Coalition, Haider al-Abadi, Sunni leader Salih Mutlag, and the head of al-Hikma (Wisdom) movement, Ammar al-Hakim.
"During the meeting, they discussed the general situation in the country, the political process to complete the formation of the new Iraqi federal government, and the general vision for the country going forward," according to Abadi's press office.
It also mentioned that they discussed the importance of maintaining strong coordination and cooperation between Baghdad and Erbil, as well as the need to address disputes within a constitutional framework.
The meeting also highlighted the need to strengthen joint security action between Iraqi and Peshmerga forces, "who have been fighting the Islamic State (IS) together over the past few years," the statement added.
Barzani is also scheduled to fly to the holy city of Najaf to meet with Muqtada al-Sadr, head of the Sairoon coalition, the top vote-getter in the May national election.
On Thursday, after landing in Baghdad mid-day, Barzani met with new Prime Minister of Iraq, Adil Abdul-Mahdi, Iraqi Parliamentary Speaker, Mohammed al-Halbousi, head of al-Fatih (Conquest) coalition, Hadi al-Amiri, former national security adviser, Falih al-Fayyadh, and head of the State of Law Coalition and former Prime Minister, Nouri al-Maliki.
"In Baghdad — Auspicious moment for a meaningful debate on unresolved issues and institutionalizing KRG-Fed Govt relations. I'm optimistic given the new leadership appreciates the shared benefits of success and costs of failure are many for our peoples and the region," Masrour Barzani, Chancellor of the Kurdistan Region Security Council (KRSC), posted on his official Twitter account, as he accompanies President Barzani.
Although Masoud Barzani has held no governmental posts since he resigned as the region's president on Nov. 1, 2017, in the wake of the referendum backlash in Baghdad, he continues to play a central and influential role in the Kurdistan Region and in Iraq as a whole.
This is no less the case after KDP voters turned out in strong numbers in both national and regional elections in 2018 elections.
shafaaq