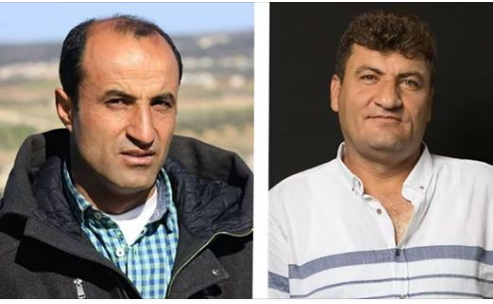 On Friday, unknown persons assassinated prominent media activists, Raed al-Faris and Hamoud Juneid, in the city of Kafr Nubl in Southern Idlib, Northern Syria.
Witnesses reported that five unknown persons driving a car shot al-Faris and Junaid near al-Faris' house in the Kusriya Street in the center of the city, killing them immediately. A photographer who has accompanied them survived. SMART cannot mentioned the photographer's name for fear of his life.
The Hayat Tahrir al-Sham (HTS) arrested al-Faris and Juneid for their media and political activities in the Syrian revolution. Also, unknown masked persons tried to assassinate al-Faris in  2014.
Al-Faris was the director of the local Fresh Radio and the Union of Revolutionary Bureau (URB). Juneid was a photographer worked with the URB.
On Sept. 21, 2018, the HTS arrested the lawyer and peaceful activist, Yasser al-Salim, in the city of Kafr Nubl because he raised banners during a demonstration in the city demanding the release of the kidnapped women by the Islamic state in the governorate of al-Suwayda.
Throughout the years of the Syrian revolution, peaceful activists suffered from harassment and restriction of freedoms, arrest or assassination. They also suffer from torture as tens of thousands of detainees were tortured to death in the Syrian government prisons. The Syrian government is still considered the most bloody party in Syria, although it is not the only one to do so.
Smart