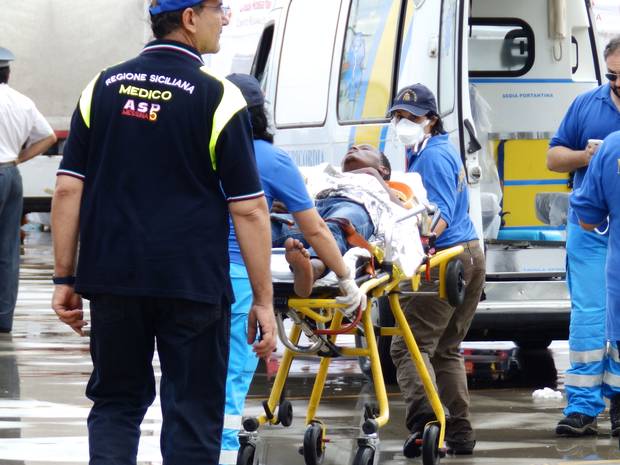 Migrants are being raped, shot and tortured during their desperate journeys to Europe even before they risk their lives crossing the Mediterranean, a doctor has revealed.
Anna Crepet, who works for medical charity Doctors Without Borders (MSF), said treating the thousands of men, women and children arriving in Italy feels "like working in a warzone".
Speaking in the Sicilian port of Pozzallo, where MSF medics work at boat landings and in reception centres, she told The Independent most migrants go untreated for potentially fatal injuries until they reach safety.
Anna Crepet, an MSF doctor, said treating migrants was like 'working in a warzone'
"Sometimes it feels like we're working in a warzone but here I think it's even worse, because we see injuries that haven't been treated for weeks," Dr Crepet said.
"We see lots of fractures through beating, lots of gunshot wounds. We find bullets in muscles and under the skin."
She recounted how one man arrived in Sicily with a hole through one thigh where a bullet had passed through and become embedded in his other leg.
But some injuries are harder to spot. Dr Crepet said almost all women who make the journey from their homes in Africa or the Middle East are raped along the way, often arriving several months pregnant.
"They tend to say very little about what they've been through but sometimes we see scars and wounds from rape," she said.
"We know that most of the women who come here alone must have been raped – and a lot of women arrive on their own."
Dr Crepet likened some of the stories she had heard to torture, telling of migrants being gang-raped in front of their loved ones by their captors in Libya.
"Men or women, it doesn't matter," she said. "We've seen 13-year-olds who have been raped."
Many migrants tell doctors similar stories of being kidnapped, held hostage and beaten in Libya by gangs demanding money.
But even before they get to the lawless country, where most smugglers' boats are launched towards Italy, people coming from sub-Saharan Africa or the Middle East are driven for weeks through the desert in overcrowded pick-up trucks.
Migrants sit on the open cargo of pick-up trucks, holding wooden sticks tied to the vehicle to avoid falling from it, as they leave the outskirts of Agadez for Libya (AFP)
Dr Crepet said the Sahara was "one of the deadliest parts of the journey", with many migrants being murdered or dying in car accidents or of dehydration.
She met one Eritrean man with an amputated leg who was run over when he fell out of an open lorry and could not stand back up on the sand.
He survived and was treated for his severe injuries in Sicily but many others are lost, often with their deaths going unreported.
A 17-year-old Palestinian boy who journeyed to Italy from Gazaearlier this year told Save the Children workers how three people thrown off the truck he was in were left behind to die in the desert.
"They gave us water to drink out of a can but it was mixed with petrol," Yusuf said. "We were allowed to eat once a day…some people died during this trip from hunger and thirst."
Yusuf, 17, saw people die of starvation on the journey from Sudan to Libya
Another teenager, from Somalia, told the charity how he travelled through the desert with women who were raped and forced to perform sex acts on smugglers as they drove.
"One of the women who was raped was seven months pregnant," Ismail said.
"When she came back to the group took a scarf and tried to strangle herself but luckily we stopped her."
When he reached Libya, he and other migrants were kidnapped by uniformed men and imprisoned in an apartment until they paid an extra $300 (£200).
"We weren't able to speak amongst ourselves and we were constantly beaten without any motive," he said. The teenager was held for a month before his mother wired the money they demanded.
Dr Crepet said injured migrants in Libya are too afraid of going to hospitals because of rumours that they will be killed or handed over to police and militias.
African immigrants gather outside a building used as a shelter at Janzur Port just outside Tripoli
"The people we see are survivors but many wouldn't survive because you need to be really robust and strong to be able to get through the desert, get through Libya and then get on a boat and be at sea with no leg or a bad injury, stuck for days on a boat," she added.
"I'm always amazed to see how they survived but we don't know how many have died along the way.
"In Libya they're not treated like human beings, they're treated like animals. There is a word in Arabic that the smugglers use, they call the migrants beasts."
Dr Crepet treated one man with gashes on his arms who had been slashed by smugglers using him as an "example" of what would happen to other migrants if they did not pay up.
More than 200 migrants died when a boat capsized off the coast of Libya on 5 August
She has been working in Pozzallo since January and was previously based with MSF in the nearby port of Augusta.
Dr Crepet, who is Italian but trained at the London School of Hygiene and Tropical Medicine and has worked at several NHS hospitals, estimated that she must have treated thousands of migrants.
She is one of dozens of MSF doctors stationed in Sicily checking people as they arrive in ports, then at reception centres and clinics, as well as educating them about infection control and hygiene.
The medic described her job as "intense" and extremely demanding, both emotionally and professionally, while overcoming language barriers and cultural differences.
"But the people you treat are amazing patients, they're the best I could have," Dr Crepet said.
MSF also has three boats helping search efforts in the Mediterranean, including one that rescued more than 200 people on Saturday.
A record number of migrants are expected to cross the sea to reach Europe this year and at least 2,000 have died making the voyage so far.
independent.co.uk