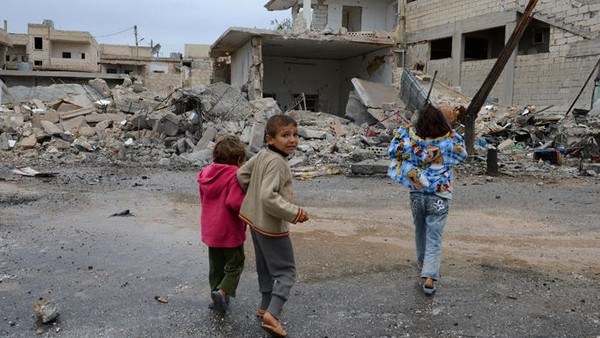 News
WHO: No new polio cases in Syria for a year
Syria has gone a year without a reported polio case, the World Health Organization said Wednesday, after a massive immunization campaign triggered by the disease's appearance in the war-torn country.

The agency said "the outbreak seems to have been brought under control" in Syria after a push to immunize millions of children across the Middle East.

"It's a very encouraging sign that Syria's returning to a polio-free status," Chris Maher, the WHO's polio eradication manager, told AFP.

He said the landmark did not guarantee that Syria was polio-free, but it did suggest that the mass immunization had been successful.

The WHO confirmed a polio outbreak in Syria in late 2013, reporting at least 10 cases of the disease in children hit with acute flaccid paralysis.

The announcement triggered global concern and prompted an inter-agency, international effort to vaccinate millions of children across the Middle East.

To date, 27 million children have been immunized in eight countries — Syria, Iraq, Lebanon, Jordan, Egypt, Turkey, Iran and the Palestinian territories, the WHO said.

Maher said between 2.7 and three million children in Syria had been immunized during the campaign in areas under rebel, government, and jihadist control.

"We were consistently reaching 85 percent of kids or more in Syria in the last 12 months," he said.

The appearance of the disease in Syria, which had been polio-free since 1999, was blamed on the breakdown of the country's health infrastructure and vaccination programs.

The WHO said the specific strain of the disease originated in Pakistan, though it declined to comment on speculation that foreign fighters arriving in the warzone could have brought polio with them.

Polio has also affected Iraq, where immunization efforts have been impeded in some places by fighting.

"But the proportion of children unreached by immunization has been relatively low," Maher said, and no new polio cases have been reported in Iraq since April.

Maher said countries are usually deemed polio-free if no new cases are reported for six months, but the agency remained "cautious" in the cases of Syria and Iraq.

"In the setting of the Middle East, because of the fighting, the displacement of populations and all of those things, we weren't that bullish," he said. 

"We're trying not to be complacent about it at all and we're keeping our guard up," he added, saying further immunization rounds were planned for 2015.
AFP