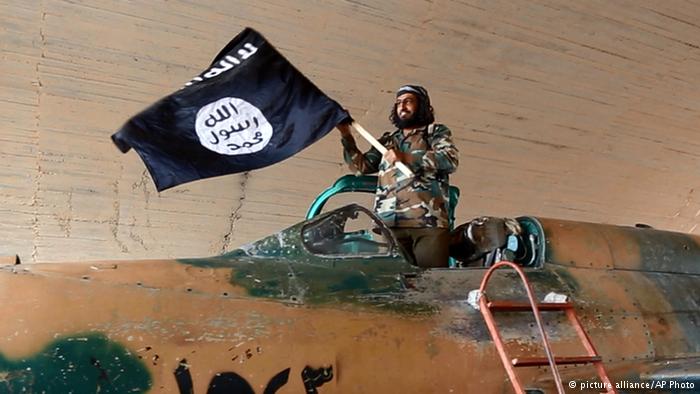 Barack Obama has downplayed US military action in Syria. A rebel faction in the civil war may have been responsible for abducting UN peacekeepers in the Syrian Golan Heights.
At a news conference Thursday where he also addressed Ukraine and other issues, the US president made his announcement before convening a meeting of advisers on Pentagon options for confronting the group that calls itself the "Islamic State" (IS).
The United States has already struck IS targets in Iraq, and officials have said the president would consider similar action in neighboring Syria. IS fighters have moved with ease between the two countries, effectively blurring the border.
Obama said on Thursday that Middle Eastern nations would have to "stop being ambivalent" about IS, calling it a group with "no ideology beyond violence and chaos and the slaughter of innocent people." He added, however, that "our focus right now is to protect American personnel on the ground in Iraq, to protect our embassy, to protect our consulates, to make sure that critical infrastructure that could adversely affect our personnel is protected."
The US president said he would dispatch Secretary of State John Kerry to the Middle East soon to discuss the matter with regional partners. Obama will also meet with world leaders in Europe next week during a NATO summit.
Last week, IS beheaded a US journalist in Syria and has since also threatened to kill other Americans it holds hostage. On Thursday, IS executed dozens of soldiers loyal to the regime of Syrian President Bashar al-Assad.
Germany has begun delivering aid to Kurdish militia fighting IS in Iraq. Chancellor Angela Merkel has warned that IS's attacks on non-Sunni Muslim religious groups could amount to "genocide."
'Trapped'
The UN announced that staff were making efforts to secure the release of blue helmets from the United Nations Disengagement Observer Force (UNDOF) who were detained in the Quneitra area of the Golan Heights. The Syrian Observatory for Human Rights has blamed al Qaeda-linked Nusra Front. Comprising troops from Fiji, India, Ireland, Nepal, Netherlands and the Philippines, UNDOF monitors a 1974 disengagement accord between Syria and Israel following their 1973 war.
The 43 peacekeepers were detained "during a period of increased fighting beginning yesterday between armed elements and Syrian Arab Armed Forces," the United Nations announced on Thursday. However, the UN was initially unable to confirm which armed group had detained the peacekeepers. A further 81 who were located in the same area are reported to be "trapped."
"Such action does not fall in the interest of the Syrian people, who started an uprising in March 2011 in the face of a tyrant regime in order to reach democracy, freedom, justice and equality," the Observatory announced in a statement. "We call for their immediate and unconditional release."
mkg/crh (Reuters, AFP, dpa, AP)