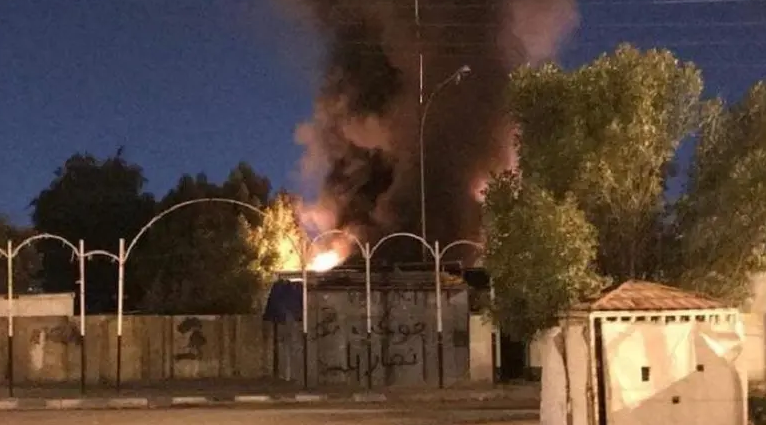 Protesters on Saturday burned the Hezbollah headquarters in Iraq which is located near the al-Iskan bridge in the Najaf province.
They had deliberately closed the government departments in Najaf as the Monday deadline set by the popular movement of protesters in Iraq approached.
The movement, seeking sweeping political reforms, and better jobs and services, had confirmed the resumption of protests in Iraq from Friday.
The popular movement has also called for an escalation on January 20, with the expiry of the deadlines granted to the authorities to agree on the demands of the citizens, especially in the southern provinces.
A large number of protesters flocked to the demonstration squares in the southern governorates, including university students and clansmen. The demonstrators also renewed their threat to the ruling class of a peaceful escalation during the next two days in the event of failure to respond to the demands of the movement.
Civil activists pointed out that the demonstrations engulfed the main roads and surrounding streets, amid chants against foreign interference and singing of national anthem.
The protesters chanted slogans against the continuation of Adil Abdul Mahdi as prime minister, and the failure to prosecute the killers of demonstrators.
The protesters also condemned the campaign of intimidation, abductions and assassinations carried out by pro-Iranian militias.
Angry demonstrations have rocked Baghdad and Iraq's south for the last three months, denouncing the country's corrupt political system.
Since October, the unrest has seen around 460 people killed and some 25,000 wounded, the vast majority of them demonstrators.
Meanwhile, Iraq firebrand Shiite cleric and political figure Moqtada Sadr has called for a "million-strong march" on January 24 to condemn the US military presence in Iraq.
alarabiya