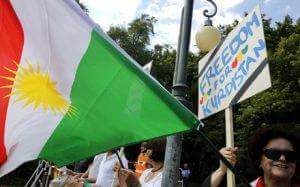 Breaking news
News
A Protesting Demonstration in Germany in the Centennial Anniversary of the Sykes-Picot Agreement
Yekiti-Media
2016 marks the 100-year anniversary of the Sykes-Picot that divided  our nation and caused suppression and oppression of the Kurdish people who is one of the oldest peoples in the Middle East .
On this occasion , the Kurdish people who are living outside , are organizing a protesting demonstration in Koln in Germany 14-5-2016 under the title " For an Independent Day "
It is important to mention that many artists , democratic institutions and political parties announced their  support for the occasion.
The parties and movements of Turkey Kurdistan said : " We, the undersigned , appeal to friends, colleagues and supporters who live in Europe , to work for the success of this event , and to support the Preparatory Committee ." and added ""We appeal to all Kurds living in Europe to attend the event , carrying Kurdish flags , and work on to access the national and democratic demands of the Kurdish people to the world."  They Continued " Dear brothers and sisters , women , children and the elderly ,  join to raise the flag home , and let's participate in the event under the title (For an Independent Day) . and concluded: " Let's leave aside our partisan identity for a day ,and ask for the independence of our country. Kurdistan . Let's shout for the establishment of an independent state which  is our right as well."
The following parties and movements signed this appeal on 05/02/2015:
– Kurdistan Freedom Party .
– The Kurdistan Democratic Party – North .
– Kurdistani Socialist Party
– Azadi Movement
The address  of the event is : Heumarkt –50 667 , Koln city, Germany , on 05.14.2016 , at one pm .