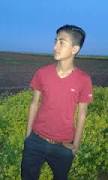 Yekiti Media
Alan Fayez Daqori family who lives in Amouda city in Al Hassaka province in North Syria published on the social networking sites that their son Alan who is only 16 years has disappeared since a period of time and after looking for him appeared that he is now in Derbasiya city at a training camp that belonged to people's protection units (YPG).
The child's family explained that when they checked the camp, the persons in charge of the camp refused to let Alan go out of the camp arguing that he joined YPG willingly.
Muhammad Daqori is one of Alan's relatives who is living in Germany now spoke to Yekiti Media saying: " Alan is not the first underage who is kidnapped by PYD and its military groups , but we hope he would be the last, he added: " This military force is going on making Syria's Kurdistan empty and kidnapping children from their schools ;their practices don't serve the Kurdish issue nor the Kurdistan liberation and I firmly believe that this group doesn't take care of not the issue, nor the liberation, it only carry out the agenda of the Kurds enemies ."
It is important to mention that this military force (YPG) had signed Geneva agreement which is against children conscription.