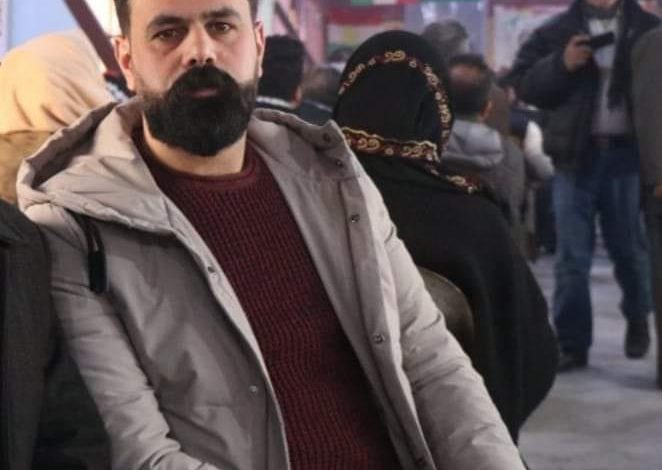 Yekiti Media
On 18.01.2022 , gunmen from the Democratic Union Party (PYD) kidnapped Mr. Jindar Barakat (a member of the Yekiti Kurdistan-Syria party and a correspondent for Yekiti Media) from his workplace in the Mufti district (Alhasaka Province).
Social media platforms showed solidarity and support with the kidnapped 'Jindar Barakat'.
The journalist and writer Ibrahim Al-Youssef wrote a short article in which he said: PYD gunmen kidnapped journalist Jindar Barakat, correspondent of Yekiti Media, freedom for colleague Jindar, no to tyranny.
Yekiti party members published a joint post attached to a picture of "Jindar" in which they said: The kidnapping of comrade Jindar Barakat this morning by PYD gunmen as part of their series of terror practices against our people's and everyone who oppose them… Freedom for Jindar Barakat and for all prisoners of opinion in PYD prisons.
Hours after Jindar was kidnapped and tortured by PYD gunmen, he was released. His body showed signs of torture, as can be seen in the attached photos.
The armed group that kidnapped Mr. Barakat yesterday, which is affiliated with the Democratic Union Party, made a fake post on Barakat's Facebook page after stealing his phone.
The post implied that he (Jindar) was not beaten but had a car accident
Yekiti Media correspondent Jindar Barakat confirmed that what was posted on his personal Facebook page is fake because his phones were stolen after PYD gunmen kidnapped him from his workplace. The medical examination revealed that one of his fingers was broken as a result of the beatings he received from this masked group.
It is worth noting that on December 18, 2021, an armed group from the Revolutionary Youth Organization (Ciwanên Şoreşger) threw a stun grenade on the balcony of Barakat's house in the Al-Aziziyah neighborhood of the city of Al-Hasaka, causing material damage to the house.