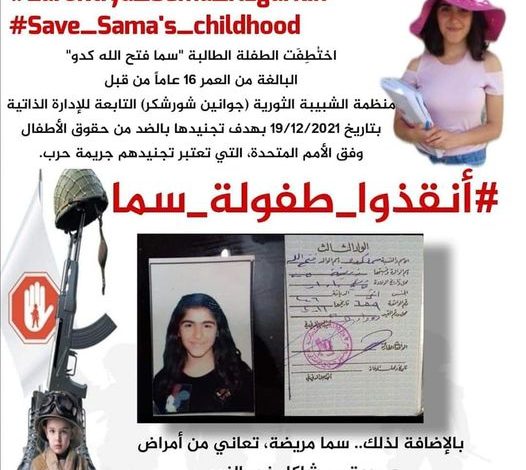 Uncategorized
The revolutionary youth Organization kidnapped an underage child
Yekiti Media
The family of Fathallah Gdo announced in a statement that the Revolutionary Youth Organization affiliated with PKK, had kidnapped their daughter Sama on December 19, 2021 in the city of Qamishlo.
Gdo said: My 16-year-old girl, Sama Fathallah Gdo, was kidnapped and she is a student in the eleventh grade. She also suffers from many diseases, including (neurological, psychological, severe depression – isolation, atrophy, and shortness of growth resulting from the neuropsychiatric state, according to the doctors' report).
Gdo appealed to all international human rights and humanitarian organizations, Kurdish and Syrian personalities interested in the rights of childhood and motherhood, and the Kurdish national movement parties and its representatives inside and outside to work to return his kidnapped daughter to the arms of the family, for completing her education and treatment.
The commander of the Syrian Democratic Forces, Mazloum Abdi, had signed, in 2019, with the United Nations representative on children and armed conflict, Virginia Gamba, a plan of commitment to end and prevent the recruitment of children under the age of 18 and not using them in military actions.
On November 27, 2021, the city of Amouda witnessed a demonstration by the families of the kidnapped children, and the city of Qamishlo witnessed a similar demonstration on November 28, 2021 in front of the United Nations office in Al-Syahi neighborhood against kidnapping their children.
The PYD had previously announced the opening of the Child Protection Office, to return the abducted minors, and according to the families of the abductees, this office did nothing about them.
Violations of the Revolutionary Youth in December 2021:
– Burning the local council office in the city of Ad-Darbasiyah, affiliated with the Kurdish National Council, on December 17, 2021, and beating a member of the council, Nizam al-Din Aliko, and four other members with the aim of killing them.
– Throwing a stun grenade at the house of Gindar Barakat in the Aziziyah neighborhood of Hasaka city on December 19, 2021, and he is a member of the Kurdistan Yekiti Party.
– Kidnapping of the 14-year-old Guevara Tawfiq Mustafa, in the Sheikh Maqsoud neighborhood in Aleppo, and the arrest of his father as a "hostage" after they returned the son to home.