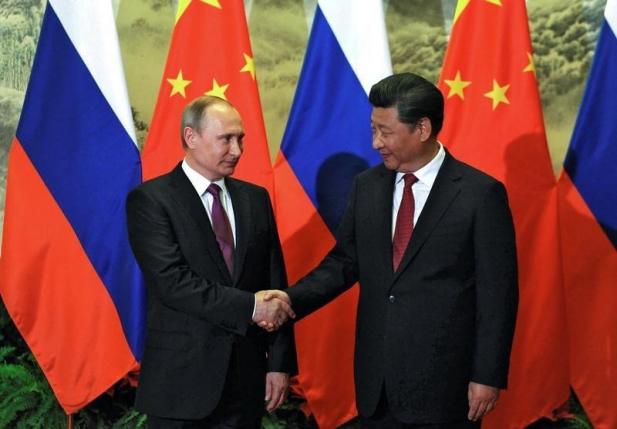 Russia and China sealed a raft of energy deals during President Vladimir Putin's visit to Beijing on Saturday, strengthening economic ties while pledging to preserve the strategic balance of power among nations.
The deals involve the sale of stakes in a number of Russian projects to Chinese firms, an oil supply contract and joint investments in petrochemical projects in Russia.
Rosneft (ROSN.MM), Russia's top oil producer, agreed with China National Chemical Corporation (ChemChina) [CNNCC.UL] that ChemChina would take a 40 percent stake in Rosneft's planned petrochemical complex VNHK in Russia's Far East.
The deal would help Rosneft finance the project and get access to the markets of the Asia-Pacific region, the Russian firm said in a statement.
They also signed a new one-year contract under which Rosneft could supply up to 2.4 million tonnes of crude oil to ChemChina between Aug. 1, 2016, and July 31, 2017.
Rosneft and Beijing Enterprises Group Company Limited [BEGRP.UL] agreed the key terms of a potential sale of a 20 percent stake in Rosneft's oil producing subsidiary, Verkhnechonskneftegaz, to a unit of Beijing Gas Group.
The Russian firm also signed a framework agreement with Sinopec (600028.SS) regarding the construction of a gas processing and petrochemical plant in East Siberia, aiming to set up a joint venture in 2017 focused on the Russian and Chinese markets.
Rosneft CEO Igor Sechin said his company did not plan to reduce its crude supplies to China and would defend its market position amid competition with Saudi Arabia, Qatar, Iraq, and Iran.
"We will stick to the volumes we have agreed on. It's around 40 million tonnes (per year)," TASS news agency quoted Sechin as saying.
Russia was China's largest crude oil supplier in May for a third month in a row, having surpassed imports from Saudi Arabia.
GLOBAL BALANCE
Although economic cooperation was the focus at Putin's talks with Chinese President Xi Jinping, the leaders also agreed to strengthen global strategic stability.
A statement on the Kremlin website from the two governments called on nations to strictly abide by the norms of international law, keep military capabilities at the minimum level required for national security and refrain from steps aimed at expanding existing military-political alliances.
The statement criticized the deployment of anti-missile systems in Europe and Asia, saying those who deploy them often acted under false pretences.
It did not mention specific countries, but it comes at a time that Russia and NATO are at loggerheads over the western alliance's build up of capabilities in eastern Europe, including missile defense. NATO says its actions are a necessary response to Russia's intervention in Ukraine.
On North Korea, both countries agreed that the stalled six-party talks process remained the best way to achieve the denuclearisation of the Korean peninsula, and that all sides should create conditions for talks to resume.
The countries' central banks also signed a memorandum of understanding on setting up a yuan clearing mechanism in Russia that they said would be beneficial to cross-border trade and investment.
(Additional reporting by Kevin Yao, Jason Subler and Ben Blanchard; Writing by Maria Kiselyova; Editing by Toby Chopra)
(reuters)