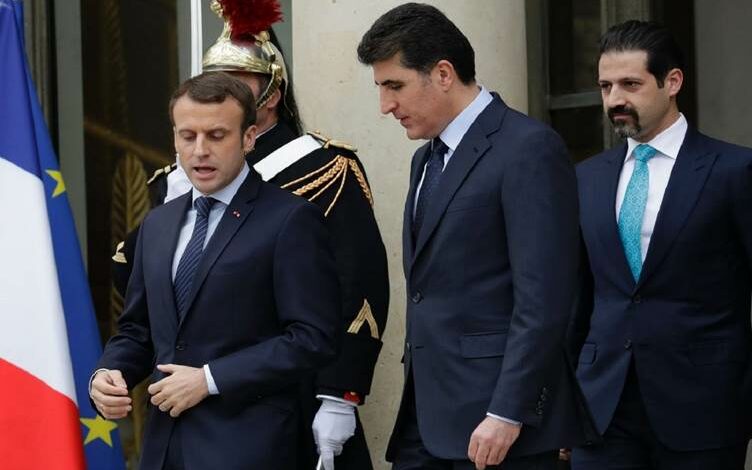 Security, the fight against Islamic State (ISIS) remnants and political stability are at the top of the agenda ahead of Kurdistan Region President Nechirvan Barzani's Wednesday meeting with French President Emmanuel Macron, according to a Kurdistan Regional Government (KRG) official.
"There is a set of topics France is taking into consideration, including in the fields of security, the fight against Daesh (ISIS) as well as political stability across Iraq," Safeen Dizayee, head of the KRG Department of Foreign Relations told Rudaw Radio on Tuesday.
"France deems the Kurdistan Region an instrumental player in political equations not just inside Iraq, but in the region as a whole," he added.
Macron's one-day visit following his trip to Lebanon will make him the most senior foreign official to travel to Iraq since Prime Minister Mustafa al-Kadhimi ascended to power in May.
French Defense Minister Florence Parly met with officials in Erbil and Baghdad last month, while Foreign Minister Jean-Yves le Drian visited both capitals in July.
Unlike most foreign officials visiting Iraq, Macron will not stop over in Erbil.
"The meeting taking place in Baghdad tomorrow was initially planned to be held in the Kurdistan Region, but due to a lack of time and shortening of Macron's agenda in Iraq, the president of the Kurdistan Region was invited to Baghdad," Dizayee said.
France and the Kurdistan Region have a long history of close relations. Danielle Mitterrand, first lady of France in the 1980s and early 1990s, advocated for Kurds suffering under the regime of Saddam Hussein and was instrumental in campaigning for the no-fly zone that allowed the Kurdistan Region to develop its current autonomy. She is affectionately known as the "Mother of Kurds", and inaugurated the first Kurdish parliament in 1992.
France was one of the first countries to open a consulate in the Kurdish capital of Erbil after the fall of Saddam Hussein's regime in 2003, and was one of the first nations to come to the assistance of the Kurds in the fight against ISIS.
The French government has deployed hundreds of troops to Iraq and the Kurdistan Region as part of the international coalition, providing military training to the Iraqi army and Peshmerga forces since 2014.
Dizayee says Macron's visit may also ease tensions between Erbil and Baghdad over an oil-for-budget agreement.
"On all official occasions, France has been supportive to the Kurdistan Region's entitlements and rights within the framework of the Iraqi constitution and has encouraged both sides to resolve their issues through dialogue," Dizayee said.
"I am sure President Macron will call on Iraqi leaders and the president of the Kurdistan Region to resolve their issues through dialogue, and I am sure if Iraq needs any additional support, France and other coalition members will help establish political, security and economic stability for Iraq," he added.
Rudaw